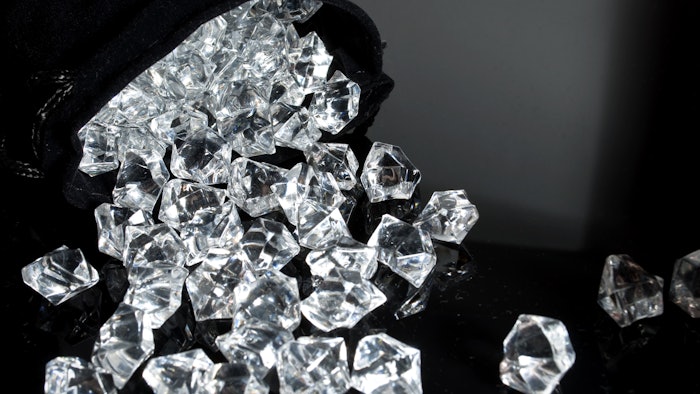 I had the pleasure of experiencing the recently launched Diamond Glow Experience at Waldorf Astoria in Chicago. Upon entering, I immediately felt like I was walking into a place of luxury, but it was as comfortable as if I was being greeted by family. The first thing I noted about the spa was the amazing smell from the signature Waldorf Astoria candle. 
This new treatment is actually built off of their most popular Diamond facial treatment, designed to take it to the next level and make it more memorable. "We took the thoughtful and mindful and put a diamond on it. We've added in this Diamond Collagen Mask by Knesko, which is also infused with a gemstone, because when we set the mask we do so with a quartz or jade roller," explains Kelly Gasspari-Fleming, director of spa and wellness. 
The experience also includes glitter champagne, gem-infused water and a take-home eye mask. "We recognized that guests looking for the experience of the Diamond Glow facial is also looking for that extra something. We went into that mindset to see how we could take this treatment to that level, which is what created the Diamond Glow Experience," explains Gasspari-Fleming. 
The Diamond Glow Experience
My visit started with the wonderfully relaxing spa amenities that included a sauna and steam room. Once I enjoyed those, I slipped into my robe and made my way to the lounge area, where I helped myself to some of the most refreshing coconut water I had ever tried. I truly could not get enough of this delicious beverage. 
I curled up under a blanket near the electric fireplace and really let the cozy feeling sink in. As you can imagine, I was already deeply relaxed by the time my esthetician Jay, nicknamed "the chemist," came to get me for my treatment. Jay first ensured that I was at my peak comfort level with the position and warmth of the bed, and I knew then that staying awake would be a challenge. Thanks to a consultation about my concerns and comfort levels, Jay was able to completely customize and tailor this experience to me. 
The Diamond Glow Experience started with a double cleanse that really worked all of the tension out of my facial muscles. I have a jaw-clenching problem when I sleep, so having that tension worked out of my jaw area was truly heavenly from the start. Next, Jay performed a diamond tip exfoliation that was rhythmic, soothing and amazingly gentle. Following this were extractions and a high frequency treatment to zap some particularly pesky blemishes. 
Jay also completely customized the serum he infused into my skin; it worked to hydrate, reduce pore size and build collagen. He then applied the Knesko Diamond Mask to my face, as well as a separate Knesko Diamond lip mask. The mask had a cooling sensation, and the serum on the mask was massaged into my skin using a gemstone roller. 
Leaving the serum to soak into my skin, Jay he moved on to provide a deep, much needed massage to my hands and arms. At this point, I was floating in the blissful state between sleep and being awake; the massage felt even better considering I had just been rock climbing only a few days before. 
Finally, Jay removed the mask and applied moisturizer and lip balm before gently bringing me back to reality. He poured me some delicious amethyst-infused water, then served me a glass of glitter champagne and a chocolate and ginger treat. I left feeling completely rejuvenated, and my skin was truly glowing like a diamond.