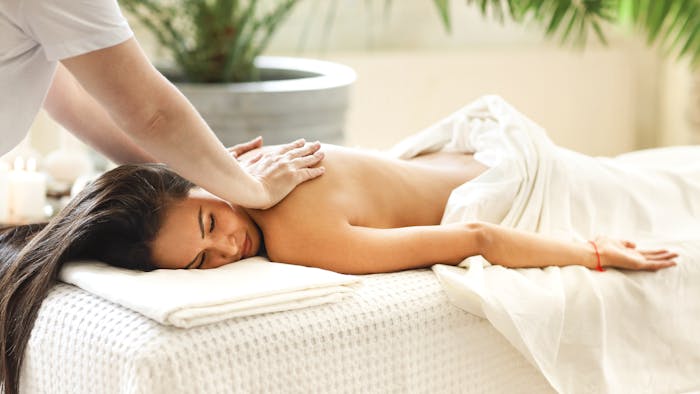 These days, health care is becoming more about personal self-care, with many Americans utilizing alternative wellness modalities to improve and maintain healthy lifestyles. Massage therapy is a wellness choice that provides not only a relaxing experience, but also offers documented physiological and emotional benefits.
The stresses of daily life and world events takes a toll on our physical and mental well-being. This is true of your guests as well, so it's important that you maximize the benefits they receive from your massage therapy offerings. Here are three simple ways to enhance your touch therapy treatments—and why it helps—from the experts at Massage Heights.
1. Added Aromatherapy
The benefits of receiving regular sessions of massage therapy offer long-lasting effects including releasing muscle tension that can contribute to stress, headaches, hypertension and chronic injuries. Research shows that massage therapy boosts the body's immune system, which can become compromised from extended periods of stress. Massage also can lower heart rate and blood pressure, and increase endorphins—all of which help manage the damage that chronic stress can create in the body.
Through massage therapy, we recognize what true relaxation feels like; we can then more easily recreate it for ourselves before stress becomes chronic and damaging. This increases our energy levels and vitality, as well as enhances our ability to cope with and truly enjoy our daily lives. At Massage Heights, we elevate this by providing complimentary aromatherapy upgrades to massage treatments, all formulated for relaxation and revitalization.
2. Hot and Cold Therapy
Hot Stone Therapy is our most popular enhancement, which is not surprising since the use of warm stones during a massage intensifies the treatment's restorative properties while relieving stress and muscle tension. You can also bring massage therapy into facial services. A combination of cool stones and soothing warm towels will de-stress the muscles of the face and improve the look of the skin.
3. Hemp for Pain
A hemp- or CBD-infused massage oil is a wonderful compliment to the therapist's skilled techniques and further alleviates muscle pain and personal anxiety.
Massage therapy helps guests relax, realign and rejuvenate. There are many positive aspects to receiving massage therapy on an ongoing basis. Americans are turning to therapeutic massage treatments to provide relaxation, relieve tension, or simply to help maintain good health and an enhanced well-being.