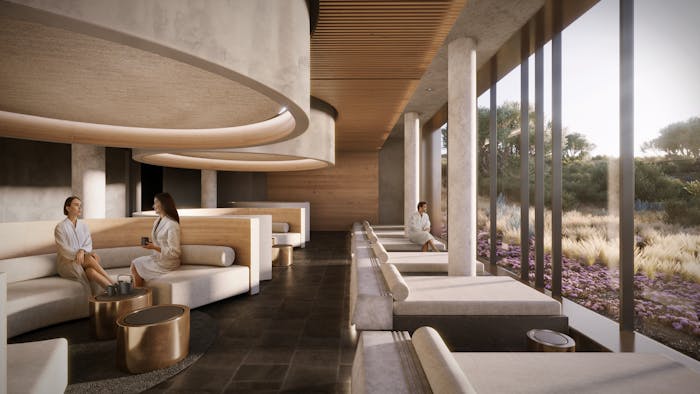 Courtesy of Alba Thermal Springs and Spa
Alba Thermal Springs and Spa has brought skin care brands Vanessa Megan and Aika Wellness on board, providing products for organic face and body treatments. Both brands offer locally made organic products that combine natural botanicals with therapeutic actives.
The Vanessa Megan Naturaceutical facial treatments use native wild-harvested Australian botanicals, natural peptides and colloidal silver, copper and gold. Guests can expect a range of experiences that will pamper, purify, repair and rejuvenate with long-lasting results.
Aika Wellness Ayurvedic body treatments are designed to create a synergy between skin care and aromatherapy that nourishes and heals the body, mind and soul. For Alba, Aika Wellness will offer holistic body products and calming rituals based on the three doshas: Vata, Pitta and Kapha. 
Alba Spa is set to open in 2022, with 22 single and double spa treatment studios, Vichy rooms and treatment suites with baths. There will be a separate manicure and pedicure lounge and a spacious relaxation lounge, as well as 32 bathing pools of varying sizes: geothermal pools, cold plunge pools and herbal-infused botanical pools.