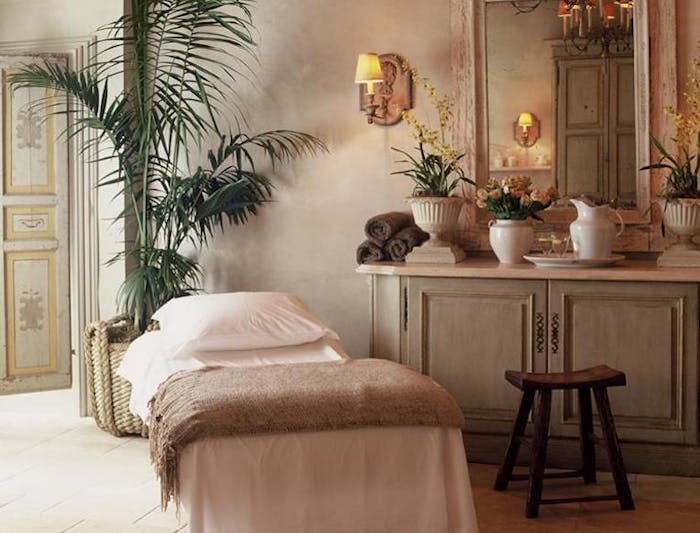 Courtesy of Cal-a-Vie Health Spa
Wellness destination Cal-a-Vie Health Spa has introduced four seasonal treatments to pamper guests this fall, from head to toe.
1. Herbs de Provence Pedicure Ritual
Designed to be a cozy retreat for the feet, the first step of this fall pedicure is a foot bath with a warm soak of wild sage, lavender and mint. Next, nourishing ginger, cardamom, black pepper and clove are applied to hydrate, support circulation and detox. Clients can choose from a color palate of burnt oranges and reds for polish application. The experience is meant to evoke visions of crackling fireplaces and comfy, warm boots.
2. Forest Bathing Body Ritual
Guests can enjoy a healing hydrosol using native forest essential oils combined with sandalwood and frankincense. A wintergreen and arnica salve is used to soothe sore muscles, while Forest Bathing Body Oil is smoothed on for skin nourishment. Hot towel compresses infused with analgesic, organic clove and peppermint help further relieve and release stiff joints. Clients leave feeling deeply relaxed and mentally well.
3. L'automne Body Ritual
Designed to restore the body's energy, this service starts with a stimulating and exfoliating polish formulated with cane sugar, vanilla, ginger, cardamom and black pepper. The client is kept under a weighted blanket throughout. A body mask is applied next, made with shea butter and goat milk to soften and nourish the skin. Tired feet are treated to a deeply conditioning, warming balm. Mental chatter is quieted.
4. Menthe Poivree Pedicure Ritual
This decadent pedi features a cooling combination of aloe vera and micronized bamboo pearls that gently exfoliate dry skin. A rich cream with cooling menthol, anti-inflammatory arnica and grounding vetiver further purify, refresh and hydrate the feet.