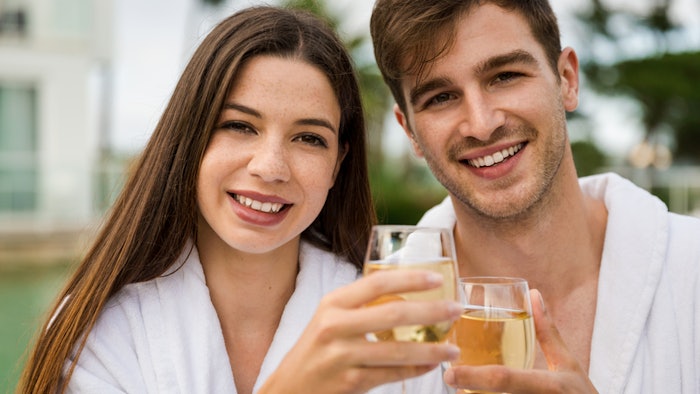 People love relaxing with a glass of wine, and spas are starting to work this into their wellness programming. Check out these wine-based wellness treatments from around the world.
1. Wine Yoga
La Concha Resort in San Juan, Puerto Rico, has created Wine Yoga in response to the adage, "It's 5 o'clock somewhere." As such, guests can partake in a yoga-flow-meets-cocktail-hour at 5:00 p.m. They can sign up for daily classes or reserve a private group session and pair it with their choice of red or white wine. They get to work out between sips, all while enjoying beautiful ocean views.
2. Wine Down Massage
La Quinta Resort & Club in California has a bunch of new wellness offerings, including the Wine Down Massage. This wine-inspired treatment begins with a flight of wine, followed by a tailored 50-minute massage using essential oils that match the wine's unique aromatics. After the service, guests receive a full pour of their favorite wine to enjoy in the Sage Room or Tranquility Garden.
3. Indulgence After Hours
Auberge du Soleil in Napa Valley, California, has designed a romantic couples experiences. Guests who partake in Indulgence After Hours receive a glass of Napa wine, and the couples can enjoy exclusive use of Auberge Spa from 8:00 to 11:00 p.m. They can sip while soaking by candlelight in a chamomile-infused bath, and a 90-minute aromatic couples massage offers deep relaxation side by side. The duo heads home with their own signature Auberge du Soleil Spa robe as a gift.