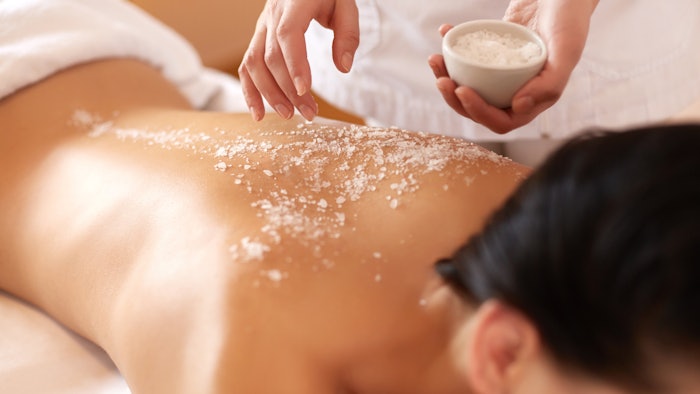 Switching up your spa menu for different seasons can be fun for your spa and your clients. Summer is a time for vacations and relaxations, and it is a great time to embrace some rejuvenating treatments.
Related: 5 Healthy Habits for Summer
1. Hydro Treatments
Glen Ivy Hot Springs in Corona, California, unveiled a touch-free service for the summer called the HydroMassage, designed around the healing properties of water. It includes an innovative spa table that is equipped with powerful hydro jets that work on the neck, back and leg muscles. Clients can also use noise cancelling headphones and a soundtrack of relaxing sounds to reach their full serenity potential. Glen Ivy's Hydro package also includes admission for guests to enjoy the property's 19 therapeutic pools, Club Mud and The Grotto.
Another hydro-related option is flotation therapy, which allows clients to reach a new level of mindfulness and serenity while floating in Epsom salt-infused water. Pause Studio in Los Angeles allows guests to do this in a warm, egg-shaped tub that uses a calming blue or red light. This treatment can help in speeding up recovery time of muscles and joints, encourage proper postural alignment, improve circulation in the body and promote better sleep.
Related: Trend Watch: Flotation Therapy
2. Crystal Treatments
The Four Seasons in Philadelphia has crystalline-infused spa services including facials and massages. The treatment takes place in the one of the spa's seven chi rooms that has walls filled with crystals to help rejuvenate and energize the ambiance of the spa. The services focus on chakra balancing, and the client can choose the crystal that best fits their needs and goals.
3. Cryotherapy
We all know that summer is hot, so why not help clients cool down and relax with some cryotherapy? Clean Market in New York City provides this treatment to help clients benefit from increased metabolism, rise in energy, joint pain relief and muscle recovery. This treatment can be massively beneficial considering that many people increase their physical activity during the warmer summer months.
Another cryo-treatment can be found at Facegym, but this one targets the muscles on the face to provide more of a "facelift" effect. This treatment helps to relieve inflammation, and can be paired with gua sha massage and other techniques for a more rejuvenated appearance.
4. Halotherapy
When it comes to incorporating salt into treatments, there are a plenty of ways to do it, and these two spas have really made salt fun for summer. Spa Brezza offers a Himalayan Salt Table experience, which combines massage with a salt body scrub, and the table itself can be used as its own meditation experience. No matter which treatment method they choose, guests will be able to experience 25 minutes on a natural heated Himalayan salt block table that is enhanced with aromatherapy.
Spa L'Auberge includes a Coastal Sea Salt Glow treatment on its menu, which helps to bring ocean vibes to this summer treatment. This treatment allows for the purification and detox of the body through exfoliation using sea salt that has been extracted from the Pacific Ocean.