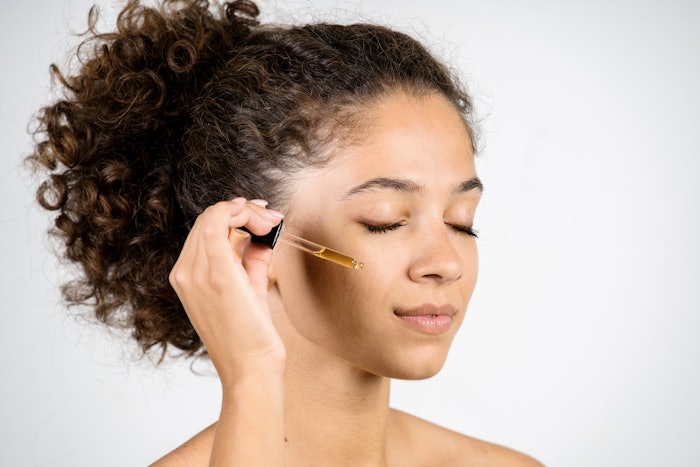 Skin cycling, a TikTok trend in which you rotate through different skin care actives across four nights, gained major popularity in 2022 and shows no signs of slowing down. A more minimalist skin care trend, skin cycling has been touted for its ability to transform the complexion, from diminishing acne and redness to delivering a filter-worthy glow.¹ 
The #skincycling hashtag has some 3.5 billion views (and counting),¹ which means that you will definitely be hearing about it from your facial clients in the near future—if you haven't already. Here's what you need to know. 
Skin Cycling Protocol
Luckily, skin cycling is similar to at-home recommendations that spa pros already give their guests. For example, when a client uses a retinol for the first time, estheticians offer guidelines for starting slow, such as applying it once every couple of days (or less) to allow their skin to acclimate and avoid irritation. 
The trend was started by New York-based dermatologist Whitney Bowe, M.D., who shared her recommended routine on social media.³ Skin cycling is a four-night skin care regimen that gently introduces active ingredients in a way that maximizes their benefits. By rotating and giving the complexion "rest days," people can avoid overdoing it with potent actives like exfoliants and retinoids while still reaping the benefits.² 
Night 1: Exfoliant
The first night is all about exfoliation. After cleansing, a chemical exfoliant containing AHAs, BHAs or PHAs should be applied, followed by a moisturizer.³
This is a great opportunity for spa pros to create a customized regimen based on their clients' needs. So, if their primary concern is acne, suggest a BHA; if they're looking for smoother skin, an AHA like glycolic acid would be ideal. 
Night 2: Retinol
On Night 2, the person cleanses and applies a vitamin A product to the entire face, neck and décolleté.³ Whether they use a prescription retinoid or a more gentle, over-the-counter retinol will depend on the client's skin tolerance. 
If they are new to retinol altogether, skin therapists should stick to their usual guidance or even recommend retinol sandwiching in more sensitive areas to prevent over-drying. Meanwhile, guests looking for a natural alternative to clinical retinol products will jump at the chance to try something formulated with bakuchiol instead. 
Night 3: Moisturize 
On the third day, clients should just cleanse and moisturize. Products should be hydrating and free of the actives from Nights 1 and 2.³ According to Dr. Bowe, clients should apply a serum featuring hyaluronic acid, glycerin or niacinamide, followed by a moisturizer; she recommends rose hip oil or squalane for those with super dry skin.³
Night 4: Moisturize
The fourth day is a repeat of the third, where the person simply cleanses, then applies a hydrating serum and moisturizer.³ These "rest days" give the complexion a break from the exfoliation and retinol, allowing it to heal.¹ This is also a great way to protect the natural skin barrier and avoid the potential irritation and dryness that can arise from using such active ingredients.
The good news is that this regimen is relatively easy to keep up. Spas can capitalize on the skin cycling trend by offering expert guidance for each guest, which not only customizes their treatments but ultimately optimizes their results. You can even put together skin cycling bundles for different concerns and sell them in your retail boutique, or provide more of a create-your-own option for browsing spa-goers. 
References: