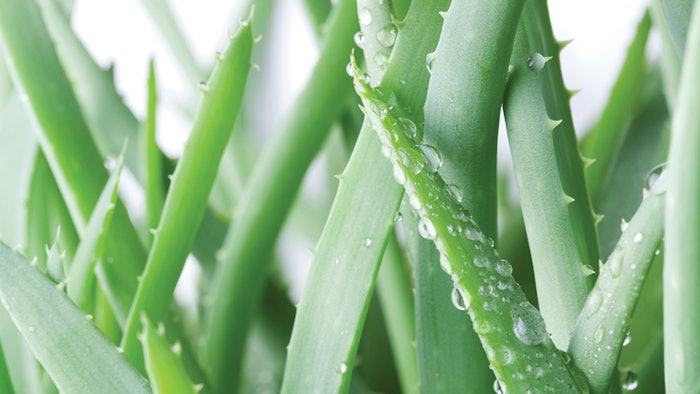 Aloe vera has a multitude of uses in the spa industry, so we gathered some unique protocols to inspire you to switch up your spa menu using this fantastic ingredient.
Café Brulée Indulgence from Biotone
This full body exfoliation uses a Café Brulée sugar body polish to slough off dead skin cells and Cocoa Comfort Massage Balm with Aloe Vera to hydrate and moisturize.
1. Add 2 oz. of Café Brulée Sugar Body Polish to a rubber spa bowl.
2. Add 1.5 oz. of Cocoa Comfort Massage Balm to a rubber spa bowl.
3. Apply 2 oz. of Café Brulée Sugar Body Polish following the BIOTONE protocol for exfoliation.
4. Apply Cocoa Comfort Massage Balm in an even layer to each part of the body, while quickly covering each area with plastic wrap. Cover client with towel to keep warm.
5. While standing at the head of the table, pull up all layers of sheets, thermal wrap and blankets, cocooning the client.
6. Allow the client to rest wrapped for 15-20 minutes. This is an ideal time to incorporate a face or foot massage into the treatment.
7. Remove plastic sheet, and perform a finishing massage treatment with the Cocoa Comfort Massage Balm.
Continue reading for the rest of the aloe vera protocols to add to your spa menu...
More Treatments From: 
Aloe Cacatus Amaranto -  The Inspiration Spa at Sensira Resort & Spa, Riviera Maya
Sun Rejuvenation Treatment -  The Spa at The Palms, Turks & Caicos
Aloe Vera Protocol for Dry and Sensitive Skin - Elina Organics
Santorini After Sun Body Wrap Treatment - Santorini Zen Spa