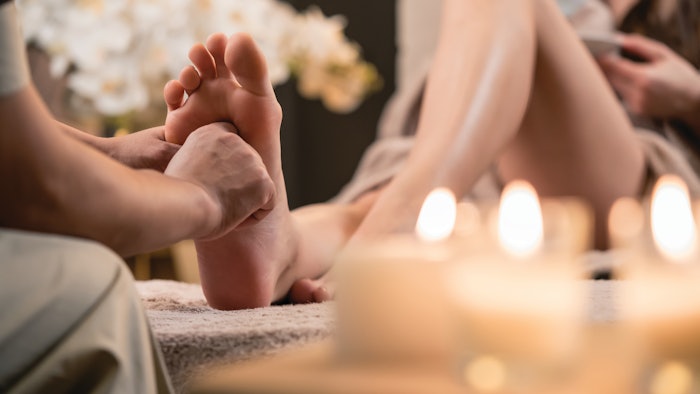 What are the benefits of reflexology?
Kristin Sartore, VP of marketing and education for Spa Revolutions: It's awe-inspiring how, through gentle pressure on specific points parts of our bodies, reflexology works. Similar to acupuncture and acupressure, reflexology connects our outer body to our insides. This type of therapy is recognized to help us feel less anxious, improve relaxation and increase energy. Ultimately, it allows our bodies to work better.
Rachael McCrory, director of spa and wellness at Grand Wailea, A Waldorf Astoria Resort in Wailea, Hawaii: Reflexology is a form of Traditional Chinese Medicine (TCM) based on the ancient Chinese belief in "qi" or vital energy. According to this belief, qi flows through each person. Stress and imbalances can cause qi to become stagnant or blocked, which can lead to illness. In TCM, different body parts correspond with different pressure points on the body. Reflexology applies pressure to targeted points within the reflex zones to balance the body's meridians and optimize energy flow.
Michelle Ebbin, founder and CEO of Basic Knead: Reflexology is so much more than a foot massage; there are many benefits. By pressing on specific points, called reflexes, on the hands, feet and ears, you can elicit a nervous system response that can improve the body's energy flow, relieve stress, reduce pain, increase energy levels, support the immune system, increase circulation, promote healing and improve clients' overall well-being.
Reflexology can help alleviate back pain, headaches, arthritis and symptoms of anxiety and depression. It can even be used to boost fertility, improve digestion, correct hormonal imbalances and relieve pain from nerve problems (such as peripheral neuropathy). It has also been beneficial as an anti-nausea and stress relief treatment for cancer patients undergoing chemotherapy.
It's a great therapy to use on yourself, since you can easily reach your own hands and feet, as well as on people who may be self-conscious about their body. Perhaps most importantly, it feels amazing.
How can reflexology fit into a spa menu?
Ebbin: Reflexology is a great way to soothe the entire body without having to remove clothing, so it's a perfect offering to incorporate into treatments like manicures and pedicures where clients remain clothed. In addition, reflexology can relax the client in a fraction of the time it takes for a full body massage. This makes it the ideal add-on to any treatment for those who want to make the best use of their time. A 20- or 30-minute reflexology booster could be easily offered with all spa treatments.
McCrory: We incorporate reflexology into our signature Grand Classic massage (50 min./$190; 100 min./$340), tailored to the specific well-being needs and goals of the guests.
Continue reading in our digital magazines to learn more about popular treatments and how it improves well-being...