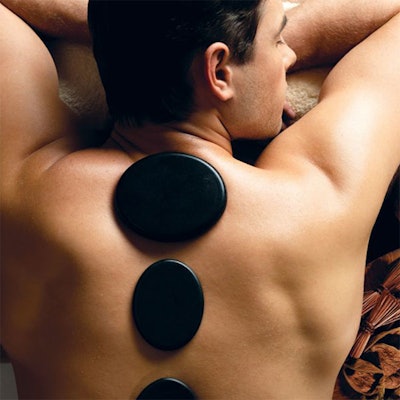 True story: Over the past several years, men have proven to be almost as into the spa experience as women. In fact, guys now account for a full 49 percent of all guests, according to the most recent Consumer Snapshot released by the International SPA Association (ISPA). What's driving the demand? "Men are becoming increasingly aware of the health and wellness benefits that spa treatments offer," notes Daisy Tepper, spa director at The Post Oak Hotel in Houston. "In most cases, they're overworked, stressed and tired, so they're looking for a brief respite from the craziness of their jobs and family life, and appreciate the calming atmosphere that a spa provides."
Of course, men also want to look their best. As a June 2019 Research and Markets report found, global male grooming product sales are projected to jump to $81.2 billion by 2024 (up from $60.6 billion in 2018). The report goes on to say this has been catalyzed by men becoming more aware of personal wellness and appearance, a rising societal pressure to always look good and shifting attitudes towards traditional masculinity. Given all this, it should come as no surprise that spas are creating a wide range of services specifically for guys. "The spa environment can often be intimidating to the male clientele—however, when they see offerings just for men, they feel more comfortable and book treatments," adds Kimberly Gagliardo, spa director at Spa at Norwich Inn in Norwich, Connecticut. If you're in need of some inspiration for your own male-focused menu, look no further than the six services that follow, all of which are attracting dudes in droves.
Men's Massage (80 min./$260), The Ritz-Carlton Spa, Los Angeles
There's no question that men love a good rubdown, especially if they're athletically inclined. Dubbed "the ultimate male escape," this ultra-relaxing option is designed to melt away muscle tension with a full- body massage using heated Basalt stones. "The stones target specific areas of concern, including the neck, lower back and/or shoulders," says Tyneese Thompson, director of spa. But the experience doesn't end there—it also includes a facial massage featuring a quick cleanse with Espa products, as well as a scalp massage utilizing Espa scalp mud.
Getting the guy: Following the service, men report that they have a deeper understanding of self-care and how to get the most out of the spa experience, not to mention a clearer picture of what goes into a daily wellness routine and the benefits of the various skin, hair and body products. "We have a lot of male guests who not only return for this massage, but for our Men's Facial (50 min./$185) as well. They appreciate the entire experience we provide," enthuses Thompson.
Gentlemen's Back Treatment (50 min./starting at $155), The Spa at Palms, Las Vegas, Nevada
Although men at The Spa at Palms mostly seek out massages, waxing services and pedicures, this targeted treatment is especially popular during warmer months, reports Brandy Ashford, director of spa & salon operations. It begins with a deep exfoliation using Omorovicza Gold Sugar Scrub, made with colloidal gold, fair trade cane sugar and vitamin C, followed by a warm thermal mud mask to draw out impurities. Next, a relaxing foot massage concentrates on nerve endings, and the experience concludes with a back
massage using an aromatic firming oil made with plum oil and vitamin E, leaving the guest feeling completely refreshed.
Getting the guy: Male clients are extremely grateful for the way this treatment eases any aches and pains while removing bacteria and/or blemishes. "Having a nice, clean back is a confidence-booster for men, and it's a great before-pool service," says Ashford, who adds that a lot of female guests come in and request the service for their partners.
Solid as a Rock (50 min./$145), Rock Spa & Salon, Hard Rock Hotel and Casino, Atlantic City, New Jersey
The ultimate in muscle relief for athletic male clients, this deep tissue massage finds therapists using their hands, elbows and forearms to restore peak performance. "They target specific areas to best meet the needs of each guest, incorporating massage cream designed specifically for techniques including effleurage, deep palm kneading, trigger point release and gentle stretching to optimize relaxation, relieve pain, eliminate toxins and make the body more comfortable," says Ginger McLean, director of spa operations.
Getting the guy: Male spa guests tend to report higher levels of stress and physical activity, so they're beyond thankful for the way this service melts away tension and soothes sore muscles, notes McLean. "Deep tissue massage incorporates sustained pressure using slow, deep strokes, targeting the inner layers of the muscles and connective tissue, and guests say this service eliminates muscle pain and stiffness and reduces inflammation, resulting in a greater range of motion," she adds.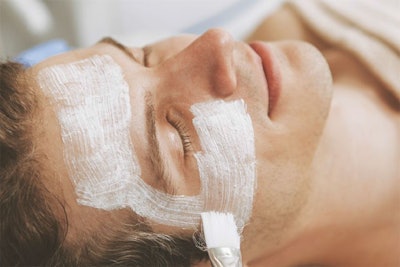 Gentleman's Facial (50 min./$120), Spa at Norwich Inn, Norwich, Connecticut
This fully-customized service begins with a consultation to determine which products will best address each male client's concerns. It includes a deep cleansing/ exfoliation, steam, extractions and a mask, and finishes with a luxurious face, scalp, neck and hand massage. "This facial is a wonderful choice for gentlemen concerned with signs of aging. It also provides relaxation for those with an overstressed lifestyle," says Gagliardo, who notes that guests are often inspired to take better care of their complexions afterwards. "They appreciate the knowledge that our spa professionals can provide to them, and are motivated to take on a home regimen following their treatment," she explains.
Getting the guy: Men are blown away by the immediate results and can't stop raving about how great their skin looks, says Gagliardo. "Also, our facility allows them to enjoy a complete spa experience with sauna, steam room and Jacuzzi, optimizing these results," she adds.
Gentleman's Executive Facial (50 min./$155), Griffin Gate Marriott Resort & Spa, Lexington, Kentucky
Perfect for sensitive and acne-prone skin types, this facial deeply purifies and decongests even the most problematic complexions so that male guests look immediately refreshed. That's largely thanks to the use of products containing a high level of propolis, which is derived from the honeybee in the Jura Mountains of France, and possesses potent healing and anti-viral properties. "The skin feels soft and soothed, and they have a brighter and more radiant-looking complexion," says Joshua McKnight, lead concierge, adding that it's great for guys suffering from razor burn.
Getting the guy: Although most of Griffin Gate's male guests typically visit the spa with a partner for a basic massage, they quickly realize they've been missing out on some much needed pampering, notes McKnight. "These gentlemen enjoy the massage so much that it piques their interest, so they explore other spa offerings like this facial," he continues. "Then, they discover the benefits of having extractions and deeply cleaned pores, and realize that taking care of their skin fits into their personal idea of having a healthy lifestyle."
On the Rocks (No Time Limit/$115), The Spa at The Post Oak Hotel, Houston
At long last, nails and males are going … well, hand- in-hand—and liquor-loving lads are particularly big fans of this mani-pedi experience, which allows them to savor a scotch while getting impeccably groomed. The service begins with a gentle exfoliation of the hands and feet, along with an acupressure massage to alleviate tension. A nourishing foot wrap is next, and a trimming and buffing of the nails completes the treatment.
Getting the guy: Tepper notes that a large number of male guests schedule spa offerings like this one every couple of weeks. "We've seen more and more men requesting nail services," she enthuses. "It's become part of their weekly or monthly routine. In addition to appreciating the immediate improvement in their appearance, they've also reported long-term health benefits, including "better sleep, increased relaxation and an improved sense of overall well-being."
–by Alexa Joy Sherman
[Images: iStock]