Keeping Up With CBD: There's no end in sight for the spa industry's most buzzed-about ingredient.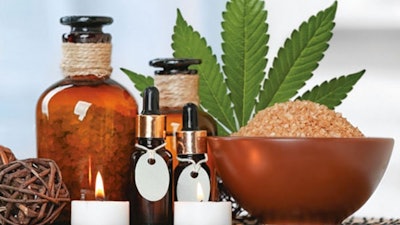 Having moved from the fringes of the beauty and wellness world to the bona fide forefront, cannabidiol—or CBD—no longer needs a formal introduction. According to a report from cannabis industry analysts Brightfield Group, CBD sales in the U.S. alone are expected to hit $23.7 billion by 2023, up from $5 billion in 2019, and the most recent International SPA Association (ISPA) data indicates that nearly one in five spas (18 percent) offered CBD treatments or products in 2018, with 56 percent planning to add CBD offerings in the next two years.
There are plenty of reasons for CBD's popularity in the spa setting, beginning with the fact that it's the non-psychoactive component of cannabis, so it can deliver a range of benefits without getting guests high. Believed to boost the body's endocannabinoid system, CBD is touted to ease muscle tension, joint pain, insomnia and anxiety. Plus, its antioxidant and anti-inflammatory properties may help with skin conditions like acne and psoriasis. We can also thank the 2018 Farm Bill, which made CBD extracted from industrial hemp legal at the federal level. This further destigmatized the holistic healing ingredient, creating a "green rush" of products, from salves and serums to sheet masks and bath bombs.
At Your Service
Spas may even be the first place that people discover the benefits of CBD. "I knew CBD would explode when we launched it two years ago," says Inez Gray, founder of Habitude Spa, Salon and Gallery in Seattle, which has an entire SpaCanna menu of CBD offerings. "These services really resonate with the two types of guests we see most—athletes and those with chronic pain or stress."
Topping the list of most booked at Habitude is the Fire Power Massage (60 min./starting at $162), which uses a CBD oil and CBD-infused circulating lotion to address areas of concern, along with alternating hot stones and ice to reduce inflammation, pain and tightness. Also popular is the Eclipse Relief Massage (60 min./starting at $162), a more relaxing, blissed-out option that utilizes a CBD body cream. Retail sales further demonstrate the ingredient's popularity at Habitude. "We can't keep CBD products in stock," says Gray, who carries three lines: Apothecanna, Blue Ridge Hemp and SoulSpring.
One of the newest items on the menu at Tribeca MedSpa in New York City is the CBD Detox Facial (60 min./$425). It begins with dermaplaning followed by a papaya enzyme exfoliating mask to remove dead skin cells. "If the products are sticking to dry, dead skin, you're not getting the full benefit of the CBD," explains medical esthetician Victoria Lewis. Steam with extractions are performed, and a CBD sheet mask is applied. Cryo-freeze globes are used for lymphatic drainage, the mask is removed, and a hydrolat and CBD face serum are applied, followed by a facial massage. The neck and décolleté are then massaged with CBD body lotion, and the treatment ends with moisturizer and sunscreen. "We've found that CBD reduces redness in post-procedure skin as well, so clients can opt to have CBD products included in treatments like our Laser Retexturizing (75 min./$575)," adds Lewis.
RELATED: CBD in the Spa – A Free Ebook
At Atelier Clean Beauty SalonSpa in Chester, Maryland, the two most popular CBD services are the CBD Cannabliss Massage (30-90 min./$65-$138) and the CBDerm Facial (30-90 min./$85-$150). Both treatments feature an optional CBD sublingual that the client takes at the beginning of the service. During the massage, the therapist customizes a full-body experience while utilizing full-spectrum CBD massage oil and lotion. As for the facial, organic Color Up CBD products are used from start to finish, including a cleanser, hydrating tonic, exfoliator, mask, peptide serum and moisturizer. It may also include extractions, sonic therapy or high frequency depending on the client's skin. "We're able to address many concerns with this one facial, from dryness and aging to active acne outbreaks, psoriasis and eczema," says Marshal Hartman, co-owner of Atelier.
TallGrass Spa and Salon in Evergreen, Colorado, has been offering CBD treatments and selling its own private label line of CBD products since 2017. A popular add-on is Enhance A Massage CBD ($10), which showcases its top retail seller, the Cooling Organic CBD Body Rub. With this service, guests get to take home a small container of the product. "The CBD enhancement doesn't change the flow of the massage, rather it's used when and where the therapist feels it's needed," says spa director Melissa Rackliff. It's no surprise that TallGrass' active clientele also loves the Colorado Recovery Massage (80 min./$145-$155), a sports massage that pairs CBD salve and therapeutic
spray with the RAD Roller tool for deeper muscle work, improved circulation and fascia release.
Hartman adds that CBD has proven to be a win-win all around: "Clients receive a much deeper massage because their muscles are extra relaxed from the CBD, and the product has an amazing effect on therapists' hands, so they're treating themselves as they're treating the guests!"
On the Horizon
Industry insiders don't expect interest in CBD to die down anytime soon. "Everything is moving toward wellness rather than just beauty, and I see CBD being fully integrated into the spa in almost every realm," says Rackliff. That includes spas being better able to acquire and use quality CBD products with transparency in sourcing, third-party testing and organic ingredients, as well as product lines expanding beyond those for skin and body care. "We're working on a CBD serum formulation for thinning hair so we can start using it in the salon as well," explains Rackliff.
RELATED: Spa Experts Predict Upcoming Trends
Although massage is by far the most common CBD spa service, businesses are also adding the ingredient to nail treatments, body scrubs, hydrotherapy and even sound healing sessions. The majority of Americans report seeking out CBD for pain, anxiety and insomnia, so expect more offerings targeting mood disorders, too. And as delivery systems are continually fine-tuned, look for products that can be more easily absorbed, as well as targeted toward increasingly specific concerns like acne and eczema. Translation: The industry buzz only stands to get louder from here.
—Allison Young
This story first appeared in the January 2020 issue of DAYSPA Magazine. To receive the magazine, subscribe here.