Yon-Ka Paris'
skin-smoothing solution for women ages 45-55. Designed to meet specific needs by combining "youth-activation" agents with an alpha and beta hydroxy peel, the treatment refines skin texture and boosts overall cell renewal. Time Resist immediately re-energizes and smooths fine lines and wrinkles, while combatting inflamm'aging (the intrinsic damage that ages the skin and its cells).
Step 1: Yon-Ka Signature Aromatic Bliss. An aromatic inhalation with Emulsion Concentree on the esthetician's hands, held above the client's face while they are instructed to take three deep breaths, and followed by a warm compress with Yon-Ka's potent plant bath, Phyto-Bain. This blissful introduction to the facial treatment encourages relaxation, oxygenation and mindfulness.
Step 2: A Classic European Cleansing. The therapist cleanses the eyes, lips, face, neck and décolleté with borneol-rich Lait Nettoyant, a milky formula that thoroughly washes while keeping the skin well hydrated. All excess cleanser, makeup and debris is removed with a warmed aromatic compress steeped in Phyto-Bain.
Step 3: Dr. Lucas Atomization Spray. The classic French atomization device infuses the skin with Yon-Ka's proprietary Quintessence blend, featuring lavender, rosemary, geranium, thyme and cypress. The essential oils are immediately absorbed into the skin, providing deep hydration, regeneration and oxygenation, and optimizing overall skin health and radiance. This step also prepares the skin to receive the active ingredients in the steps to follow.
Step 4: Exfoliation. Featuring poly blends of naturally occurring alpha and beta hydroxy acids to deeply exfoliate, smooth and retexturize, this step incorporates three Yon-Ka-specific application techniques that enhance the Alpha Exfoliateur's action while reducing potential skin sensation and ensuring maximum client comfort.
Step 5: Yon-Ka Anti-Wrinkle Techniques. Generously apply Yon-Ka's power- packed Mesonuim 2 booster ampoule—a potent blend of 24 amino acids, vitamins and minerals—to the face and neck. Perform Yon-Ka's anti-wrinkle techniques to help increase oxygenation, flush excess fluid and improve overall firmness, while stimulating cellular regeneration on targeted areas of concern.
Step 6: Yon-Ka Eye and Lip Contour Massage. Utilizes the best-selling Phyto- Contour, a rosemary-rich contouring crème prized for its ability to
firm, drain excess fluids and reduce the appearance of dark circles and puffiness; and Alpha Contour, which features alpha hydroxy acid poly blends and mimosa bark peptide to aid hydration, smoothing and renewal.
Step 7: Yon-Ka Aroma Luxe Facial Massage. 27 movements encompass the face, neck, décolleté, shoulders, upper arms, ears and scalp. Implementing pressure points, lymphatic drainage motions and classic massage techniques, the skin's tissues are rebalanced for a more radiant and youthful glow. This oxygenating and detoxifying massage features Time Resist Crème as the massage medium; it delivers anti-wrinkle and redensifying properties thanks to Saponaria pumila stem cells, which stimulate dermal stem cells for more youthful, re-energized skin. Additional nourishment can be achieved by adding the Mesonium 1 booster ampoule to the Time Resist crème.
Step 8: Facial Masque: Masque Lift. A professionals-only modeling mask rich in marine collagen, spirulina and rosemary provides a long-lasting firming effect to the skin. This solution defines facial contours, tones and tightens skin, deeply hydrates with hyaluronic acid, and balances and brightens with lavender and geranium, revealing a supple, smooth, radiant and resilient complexion.
Step 9: Aromatic Toning With Lotion Yon-Ka. Imparting classic essential oils of lavender, rosemary, geranium, cypress and thyme, Quintessence—the Yon-Ka treasure—hydrates, calms, balances and re-energizes the olfactory system, providing overall wellness and preparing the skin for maximum absorption of vital nutrients and active ingredients.
Step 10: Final Moisturizer With Time Resist. Yon-Ka's newest antiaging crème is designed to boost epidermal and dermal stem cells—essential for preserving youthful and beautiful skin. A Youth Energy lipoamino acid fights stress and inflammation, which can degrade proteins and impair skin's ability to protect itself from environmental aggressors. Euglena gracilis and silk tree extracts combine with youth activators to replenish and re-energize. Skin is left firmer, with increased elasticity and tone; the depth, length and width of fine lines and wrinkles is greatly reduced.
Step 11: Yon-Ka Signature Aromatic Awakening. Beginning with the energizing scent of rosemary, Phyto 152 is applied to the esthetician's hands and deep breathing is encouraged to gently wake and engage the client, followed by a full body stretch to prompt circulation and the awakening process. Lastly, the client is assisted into a seated position while Lait Hydratant, Yon-Ka's skin-quenching and nourishing body milk, is applied to the upper back and shoulders, completing the facial treatment and allowing the client to emerge from the experience relaxed and with beautifully glowing, smooth skin.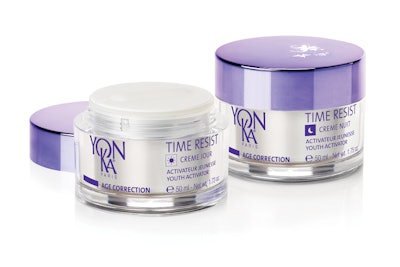 Products Used
Time Resist Duo: An antiaging pair that targets silent aging factors, including inflamm'aging, oxidative stress and glycation. Consisting of a day and nighttime formula, they work in tandem to smooth and fill wrinkles, while renewing skin cells' energy.
Lift+ Booster: This lightweight hydrating and firming fluid enhances the effects of the Time Resist Duo to promote healthy skin tone and tighten facial contours.
Lotion Yon-Ka: A versatile healing water that drenches skin with the solar-charged energy of essential oils to purify, tone and invigorate. The alcohol-and paraben-free treatment also soothes the complexion and optimizes the effects of customized treatment regimens.
Phyto-Contour: Designed to reveal contours that look brighter and refreshed, this eye cream naturally combats puffiness and fatigue in a sensitive and often over-stressed area.
This 60-minute antiaging facial utilizes Time Resist products,