Throughout and since my time in college, I've taken much better care of my skin but I still tend to have a few hiccups. As luck would have it, I was recently invited to partake in my first facial ever—at the ripe age of 25!—thanks to Illuminate Face & Body Bar in Brentwood, California. The mini chain of luxury spa and wellness centers has five SoCal locations, as well as one in Las Vegas, and offers everything from CoolSculpting to Ultherapy.
RELATED: Spa Pros Share Their Favorite Antiaging Treatments
I was scheduled to receive the super-popular Vitamin IV therapy and HydraFacial Combo (60 min./$300), a four-step, machine guided, medical-grade skincare treatment with a customized vitamin IV Drip.
Upon my arrival, the front desk staff was very welcoming in starting me along my path to skin salvation. They poured me a glass of sparkling wine and encouraged me to choose one of five soothing scents to help me relax during the service. But aromatherapy was just the beginning of the complimentary wellness menu, which also included healthy snacks and beverages (hello, on-tap kombucha!), in-room meditation and crystal pairings. I received an Amethyst Stone of Contentment, a natural stress reliever said to "open the third eye, remove negative energy and attract positive energy." And who doesn't need stress relief and good vibes?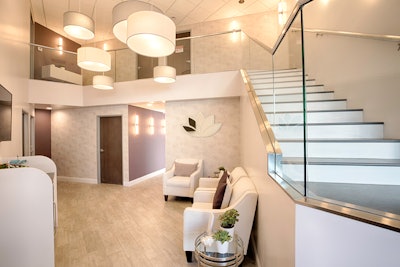 After I made my wellness selections, I was led upstairs to a minimally decorated but cozy treatment room. Step one involved getting my vitamin IV therapy up and running. I chose the Myers Cocktail, a potent blend of magnesium, calcium, vitamin B6, vitamin B12, B complex and vitamin C designed to revitalize and rejuvenate. Other mixes are formulated for anti-aging, immunity, athletic performance and hangover remedy, and there's also a fully customizable option. The needle insertion process was rather painless, not to mention worth it, as I felt rejuvenated and energized afterward.
RELATED: Spa Pros Weigh in on the Benefits of Enzymes
Next it was time to focus on my face. My skin was first manually cleansed and massaged, followed by the first step of the guided treatment: A machine cleanse to more thoroughly remove excess dead skin cells. After the double cleanse came a mild chemical peel that gently loosened dirt and debris from the pores. Up next was the extraction process that utilized the machine's vortex suction for painless (yay!) blackhead removal. Following the extractions, oil-free hydrators, hyaluronic acid, antioxidant and peptide-rich serums were flushed through my skin, followed by a few minutes of red light therapy. As a finishing step, HydraFacial brand moisturizer, eye cream and SPF were applied and I was given a peek of a tube containing my own liquid facial impurities—and a mirror to admire my bright, plump, glowing skin, which made me look 19 again.
—by Sarah Reyes
Confession time: growing up, I looked a bit younger than my age, so taking care of my skin just wasn't a priority. I was under the impression that I'd always look this way. It wasn't until my college years that multiple all-nighters and month after month of stuffing my face with brand-name spicy cheese puffs really caught up with my skin; thus forcing me to delve into the glorious world of skin care.