Zenana Spa and Wellness Center
in Portland, Oregon.
Not only are an increasing number of pregnant women pampering themselves at the spa these days, they're turning to services that promote their overall well-being—"an important aspect of maintaining a balanced, healthy lifestyle and outlook," adds Stratton. Packages are particularly popular, allowing expectant moms some much-needed alone time "before they give so much of themselves to their families," points out Surinda Oberai Cavanagh, spa director at The Spa at Stoweflake in Stowe, Vermont.
RELATED: Treat Your Loved One with a Valentine's Day Spa Package
Check out how these spas are bundling up their offerings to meet this market's growth spurt.
The Mama's Dream package ($515) at Zenana Spa and Wellness Center caters to guests through all stages of pregnancy and beyond. The services, which can be scheduled individually or grouped together, consist of a 70-minute belly cast, three 60-minute prenatal massages, a 60-minute Flourish Facial, a 60-minute Serenity Pedicure, plus a 60-minute Nurturing Massage for the new mother. In addition to its spa offerings, the facility hosts classes and workshops for parents-to-be.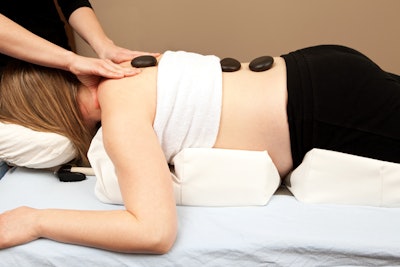 To alleviate both mind and body stress, the Woodhouse Day Spa in Victoria, Texas, offers a Great Expectations package ($175). Made up of three 50-minute treatments— a Mellow Mama massage (using the Mama Mio line), an Organic Discovery facial, plus a Lavender and Seaweed Sugar Scrub Pedicure—the services concentrate on releasing endorphins and minimizing symptoms of anxiety and even depression. "Prenatal massage can help lower stress levels and high blood pressure, which may reduce the risk of preeclampsia," notes spa manager April Butler.
PHOTOS: Valentine's Day Products
At The Spa at Stoweflake, the Marvelous Motherhood package (50-80 min./$145-$195) targets tired muscles. It begins with a full body peel, followed by a moisturizing carrot body mask, soothing head and neck massage, and full body massage. "Our bolsters enable most prenatal clients to lie face down—it's a very welcome break for them," says Cavanagh.
At SenSpa in San Francisco, the soothing Nurture Bundle ($417) zeroes in on common pregnancy ailments such as joint and muscle aches, swelling and inflammation. Th is package encompasses a 50-minute Buddha Belly pregnancy massage, 60-minute Get the Red Out Facial and 15-minute SenSole Foot Refresher, capped off by an organic lunch. An on-site fertility acupuncturist demonstrates the spa's commitment to its growing pre- and postnatal clientele. "Our wellness experts develop a symbiotic relationship with guests to see them throughout their pregnancies and beyond," explains Terri Eaton, SenSpa's outreach manager.
–by Pamela Brill
There's no time like pregnancy for a spa-goer to "baby" herself. "It's such a special transition in a woman's life, a time that deserves reverence and tender care," says Jacquelynne Stratton, spa manager at