A dry spell quelled.
If you've worked in the industry for five minutes or longer, we don't have to tell you that dehydration is a major skincare issue. It's also common knowledge that hydration is a key to antiaging regimens, which may explain why moisturizers make up the largest, most saturated skincare category. These hydrators come in all forms and are increasingly combined with SPF, primers and foundations to offer all-in-one solutions. Although clients may be inundated with a dozen potential moisturizers, do they know which to use for their skin types, and when? More than likely, the answer is no, so it's crucial for spa pros to be able to explain exactly why our skin needs hydration help, and how to meet that end.
To uncover that information, we consulted with industry experts to glean the most necessary savoir faire when it comes to keeping clients' complexions properly hydrated.
Why We Dry Out
Hydrated skin cells are in an anabolic state, which is extremely important to preserve as it allows the cells to repair DNA, maintain proper cellular acidity, resist bacteria and viruses, and thus function at an optimum level. "When skin is dehydrated, cells are in a catabolic state—meaning they are breaking down," furthers Karen Asquith, director of education for G.M. Collin. "Dehydration results in oxygen starvation, DNA damage, and an inability to resist bacteria and toxic buildup in the cells. All of this leads to skin sensitivity and accelerated aging."
Unfortunately, some dehydration is inevitable, and—similar to physical thirst—isn't perceptible until it's present. Dehydration in the skin can lead to: fine lines and wrinkles, flaking and scaly skin, hyperpigmentation, irritation, itching, loss of tone and sensitivity.
Often, clients will experience these symptoms and immediately reach for heavy moisturizers, which are typically more oily and don't necessarily contain what their skin needs. Clients on your treatment table may not understand the differentiation between having a dry skin type, meaning their skin doesn't produce enough sebum, versus the condition of dehydration, which is caused by a variety of internal and external factors.
Not surprisingly, the top cause of dehydration is not drinking enough water. Other contributors include: aging, alcohol, caffeine, hormonal imbalances, illness, medications, overly aggressive skin care,  poor nutrition, smoking, stress, travel/altitude changes, weather and environmental factors (e.g., AC/heating, air pollutants, change in seasons, direct heat, dry climates, humidity or sun exposure).
Jordanna Antonoff, account executive with Shira Esthetics, suggests employing the "pinch test" to gauge clients' dehydration. "After pinching, if skin goes back to its normal state slowly, it's dehydrated," she explains. Crêpe paper-like lines are another telltale sign, as is crinkly skin in the eye contour—more often a result of dehydration rather than lack of sleep.
One phenomenon all clients are bound to experience over time is transepidermal water loss (TEWL), a process that causes water to naturally evaporate from within. "If it's unregulated, increases for specific reasons, or if the skin's own barrier sealing function doesn't perform optimally, dehydration occurs," explains Christian Jurist, MD, medical director of global education for Pevonia. TEWL's causes include excessive use of alkaline soaps, aggressive peeling and over-exfoliation. "In the long run," Jurist says, "sensitivity can ensue and aging will accelerate."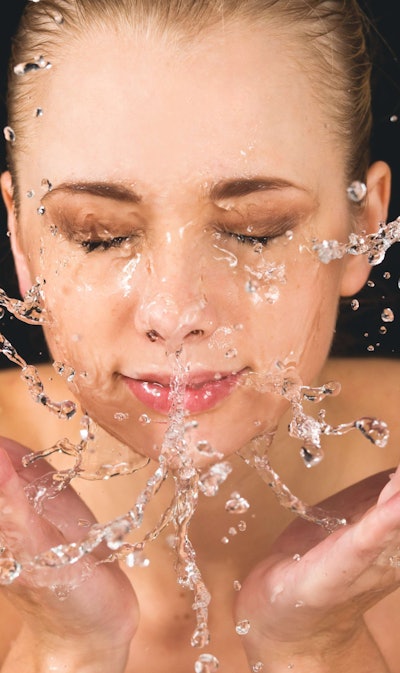 Just Add Water?
Hydration involves far more than simply "quenching," or moisturizing, the skin. To restore and maintain barrier function, skin needs lipids. "They hold in moisture, and surround cells to reduce intercellular gaps and better prevent TEWL," explains Asquith, adding that skin needs both high- and low-weight lipid molecules, "as this brings moisture to both upper and lower layers of the skin." It's just as important to stimulate the circulation of water within skin.
Any product, from cleansers to toners to creams, can be formulated to provide hydration, but we summarized the typical heavy hitters below: Serums penetrate deeply to correct and protect skin, and they're easy to layer with other hydrating agents such as creams to maximize results. Rather than forming a barrier on skin, like moisturizers do, they soak directly into its deepest layers, offering benefits such as barrier reinforcement. "It's important to find a serum with antioxidant as well as hydrating properties," says Antonoff , who notes that such serums are excellent at protecting skin from dehydrating free radicals.
Moisturizing creams provide the dual function of supplying water and reducing its evaporation thanks to a sealing, or "filmogenic," effect, meaning they're also great at locking in serums' ingredients. Highly adaptable, creams can be easily formulated for dry, combination or oily skin types, and reinforced or lightened to suit wintry or summery climes, respectively. No matter the type, though, you'll want to seek creams fortified with SPF—protecting skin from UV rays is a crucial factor in long-lasting skin hydration.
Facial oils and balms provide an even tighter seal to "block" water's escape from the skin, thereby maintaining internal and external moisture. Previously recommended for dry and/or mature skin types in particular, nowadays they can be formulated for combination and sensitive skin. Guinot's director of education Elizabeth Murchison recommends balms and oils during winter, reasoning that they create a protective barrier against irritation and loss of moisture.
Toners once had a reputation for being astringent; however, many of today's varieties are rich in humectants such as hyaluronic acid or squalane, which offer enhanced water-trapping benefits, meaning they attract and bind moisture into the skin. The same could be said of modern face mists too.
The Cultivation of Hydration
The more we learn about hydration's link to youthful, healthy skin, the more scientists are on the case. For one thing, sunscreen and cosmetic manufacturers are increasingly formulating with hydrating agents.
Earlier this year, MIT researchers developed a new, silicon-based polymer, or "second skin," designed to temporarily protect and tighten skin, seal in moisture, smooth wrinkles, and perhaps even deliver and penetrate drugs to treat eczema and other forms of dermatitis. And then there's Korea's latest skincare advancements, "magic water drops," i.e., a weightless yet visible veil of micro-droplets formulated into serums, creating tiny beads of water during application. They're designed to provide an instant surge of moisture, and to optimize skin's ability to absorb and retain moisture, sans oil.
Antonoff points to a breakthrough player: saccharide isomerate, or Pentavitin. "It's found in the stratum corneum layer of the skin," she says, "and Pentavitin-enriched skin care locks in moisture for 72 hours by improving barrier function."
Asquith is excited about the discovery of aquaporins, and of products that stimulate their natural production. "This is the protein on the cell membrane that stimulates skin's water channels, allowing the movement of water from the dermis to the epidermis," she explains. "Aquaporins diminish with age, thereby contributing to the physiological dehydration of skin."
Researchers are continuing to find new ways of formulating time-tested hydrating agents too. For instance, power agents such as hyaluronic acid can be encapsulated into microscopic spheres for deeper layer hydration. Notes Jurist: "The latest unispheres can quick-release moisturizing components, upon contact, into the skin."
–By Katie O'Reilly