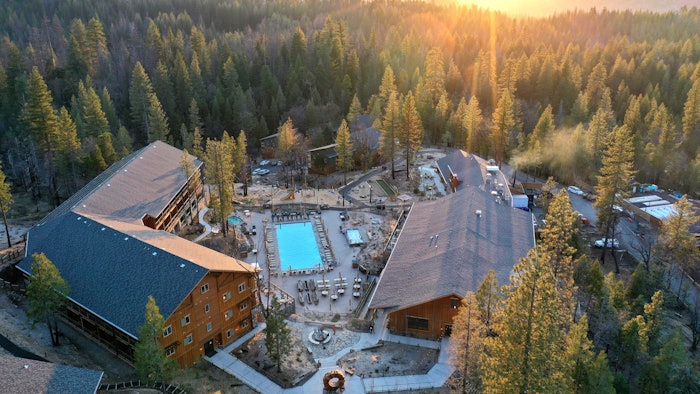 Rush Creek Lodge & Spa in Yosemite Park, Groveland, California, is offering health and wellness journeys in 2023 that are inspired by Yosemite's natural beauty and spirit. The retreats include mountain lodging, naturalist-led hikes, curated spa treatments and more. 
Related: Sommerro's Urban Wellness Retreat Opens with Nordic Well-Being Experiences
The expansive indoor/outdoor Spa at Rush Creek was strategically designed with elements inspired by the nature-driven experiences in Yosemite. The covered, heated outdoor spa area offers multiple water features and a lounge area outfitted with seating and a swinging daybed open to the mountain air.
Rush Creek's curated spa treatments range from hot stone massages and soaks to skin care treatments that utilize products from Eminence Organic Skin Care. The spa also features a Granite Waterfall Mineral Hot Tub, Aromatherapy Steam Room, Himalayan Salt Block Sauna, Cool Mist Shower and Aromatherapy Sensory Room, which combines light therapy with nature sounds, comfortable seating and fragrances for a full body sensory wellness experience.
Rush Creek Lodge & Spa also offers Health & Wellness Gift Packs and gift cards.
"We are thrilled to offer guests a holistic wellness experience during their stay at Rush Creek. Our program is tailored to support relaxation, rejuvenation and healing rooted in the peace, serenity, and vastness of Yosemite," said Lee Zimmerman, co-owner of Rush Creek Lodge & Spa. "Guests are encouraged to explore the outdoors via our hiking trails; join a Yoga class overlooking the mountains; or partake in a BOGAFit class in our heated saltwater pool."