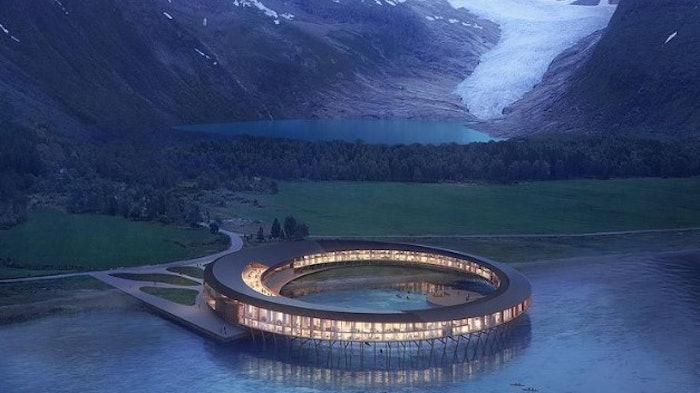 Courtesy of @sixsensessvart
The Six Senses Svart in Norway, scheduled to open in 2024, will be an energy-positive project. The 94-room property will combine modern design and technology with earthy, organic materials, with a focus on nature, sustainability, technological innovation, wellness and mindfulness.
The goal is to create a sustainable venture from the start, setting a new standard in carbon-neutral travel. Six Senses hopes to show that carbon neutrality is both feasible and profitable. 
Six Senses Svart is the first building designed after the highest energy-efficiency standard in the northern hemisphere. It will harvest enough solar energy to cover the hotel, adjacent operations and boat shuttle, as well as the energy needed to construct the building. Not only will it be independent from the power grid, but it will be an example of how energy-positive buildings can significantly decrease emissions.
The property will be self-sustaining, complete with its own waste and water management, recycling and renewable infrastructure. It will also have a zero-waste dining venue, and filter and bottle its own drinking water. There are already plans to work with existing sustainable fishing and farming operations, as well as local suppliers for the restaurants and bars.
Related: 5 Ways To Incorporate Sustainability Into Your Spa
Further, Six Senses Svart's Net Zero Lab will ensure zero environmental impact from guests visiting the destination. "The guest journey will have zero environmental impact from start to end. The mission is to achieve common ground for all stakeholders pushing the technology to the next level to benefit the resort and the industry at large," said Jan-Gunnar Mathisen, CEO of the project's owner and developer.
Guest rooms will include a wellness concierge concept through Svart Touch, meaning that touchless technology will adapt the room to the guest's state of mind and health, providing options to encourage a deeper sense of well-being.
"Sustainable properties call for extraordinary creativity, and Six Senses Svart takes us to a whole new level in terms of pushing boundaries. The concept has become bigger than the project itself, as it will provide a futuristic showcase for what can be achieved in terms of sustainability and energy solutions, and therefore a blueprint within our hospitality industry and the development sector in general," said Neil Jacobs, CEO of Six Senses.