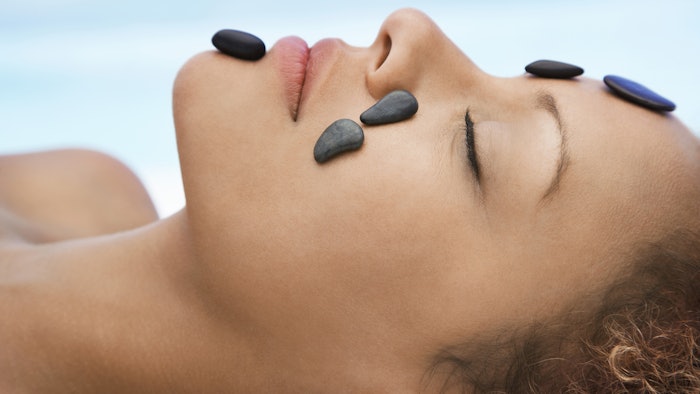 I had the wonderful pleasure to visit The Brow Lounge in Frankfort, IL, and I joined Lora Peters, regional educator for Yon-Ka Paris, to recieve the Yon-Ka Hydra Mineral Facial. This facial is actually a combination of two different Yon-Ka treatments that have been beautifully merged together: the Eye Lip Perfection and Hydralessence. 
The Set Up
When I first walked into the spa, I was immediately in love with its cozy feeling and sliding barn doors. There was a comfortable lounging area in the front that had some excellent picture opportunities, as well as plenty of beverage options including coffee and tea. 
After a lovely greeting with some water in the lounge, I was able to climb into the cozy treatment bed adorned with a wonderfully warm pink blanket. It was easy to immediately slip into a state of relaxation (not to mention it had been far too long since I had received a spa treatment). The lights were dimmed low and the treatment room felt spacious. The bed itself was incredibly comfortable, and I felt my muscles easing and the warmth from the bed slipping me into a state of bliss. 
The Treatment
Lora started off the treatment with a comfort check, which was very much appreciated. She continued this practice throughout the treatment to make sure that I was comfortable at all points. She then performed a breathing opening that smelled amazing and slipped me further into relaxation mode. We moved into a cleanse and a toning experience that used Yon-Ka's iconic Quintessence for cooling and relaxing the skin. 
A blend of 22% acids was used on my face to exfoliate, purify and balance the skin, followed by a warming and hydrating Hydra N1 Mask with hot stones. This portion of the treatment was truly elite. Not only did it feel amazing, but it was such a relaxing sensation, and it was during this portion of the treatment I began to slip into my spa sleep state where I hover between being awake and being asleep. 
When Lora finished the hot stone portion of the treatment, she moved into the eye and lip portion, using two eye creams and the brand's Aventurine Crystal Wand. Crystal is naturally negatively charged so it flushes out toxins while fighting free radicals, and in this case it was also cooled to enhance its de-puffing benefits. 
The mixture of hot and cold therapy in this treatment was perfectly targeted and executed to deliver a relaxing sensation that was actually beneficial to my skin. Lora used a very specific technique with the crystal wand, incorporating specific pressure along the meridian that correlate to the kidney, large intestine and bladder. A jelly mask was then applied over my eyes and around the contours of my lips for extra TLC in those areas. During this mask, Lora massaged tension out of my hands and arms, which felt extra amazing after a weekend of spackling and painting the walls in my house. 
When it was time for the treatment to come to a close, Lora finished with a signature toner spritz, eye cream and closing Hydra N1 creme before performing the awakening ritual, in which I breathed in rosemary aromatherapy to stimulate, awaken and reconnect my mind and body. I left the spa feeling completely refreshed and renewed, and I was absolutely glowing.