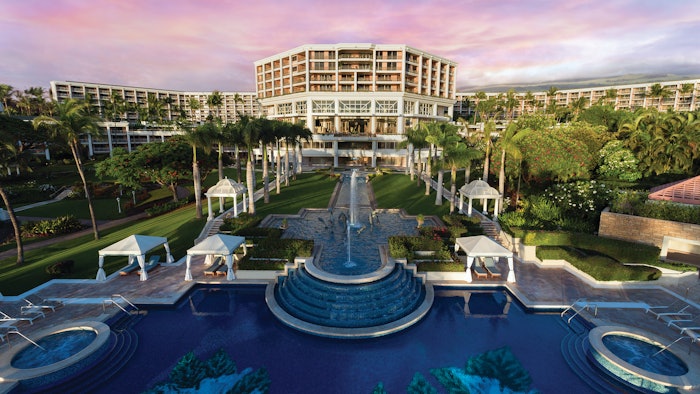 As the pandemic set off a flurry of pivots at spas worldwide, Mohalu by Spa Grande at Grand Wailea (www.grandwailea.com/mohalu), a Waldorf Astoria resort in Wailea, Hawaii, took the opportunity to usher in a new era of wellness. As the largest spa on Maui, the resulting slowdown in visitors enabled the opulent Spa Grande to take a timeout for updates and upgrades. And, as those took place, the intimate Mohalu concept was born—offering a pint-sized getaway on the resort's sprawling grounds, with new boutique and relaxation areas clocking in at a mere 500 square feet each.
"Mohalu by Spa Grande is a new, intimate spa experience and personal escape at Grand Wailea, inspired by the same Spa Grande heritage and traditions," notes Rachael McCrory, director of spa and wellness. "Launched as a direct result of guest demand for a full range of treatments in a private, individualized setting, this new chapter of the Spa Grande story features 19 private treatment suites with partial garden or ocean views, and offers a range of packages and services while Spa Grande undergoes future enhancements."
In the interim, guests can still luxuriate in the spa's meticulous attention to detail. The relaxation area features a garden wall with live flowers and foliage, which complements expansive picture windows overlooking the beachfront resort, punctuating the decor's earthy neutrals with pops of tropical hues. There, guests can snack on individually wrapped, house-made energy bars or sumptuous chocolate squares from Maui's Ku'ia Estate. Transport to the treatment area requires descending a grand candle-lined staircase to a long hall of rooms that seems to stretch on forever, allowing clients to feel they are indeed entering another world-one that promises much-needed renewal for travel-weary guests.
Continue reading about this spas business tactics and top treatments in our Digital Magazine...
Tracy Morin is an award-winning writer and editor based in Oxford, Mississippi.