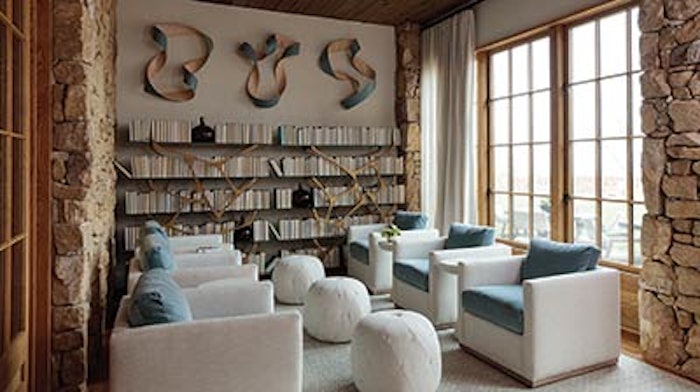 Nestled within Tennessee's Smoky Mountains, the idyllic Blackberry Mountain (www.blackberrymountain.com) has provided an outdoor oasis for many during the COVID-19 pandemic and lockdowns, thanks to its focus on fitness, health, wellness and reconnection to nature. Referred to simply as "The Mountain" by employees and repeat visitors, it is a relatively new offshoot property of the famous gastronomic getaway 20 minutes down the winding mountain road, Blackberry Farm. Both properties are part of the elite hospitality network of Relais & Châteaux.
Visitors can participate in a wide range of activities, from pottery classes to aerial forest yoga, before heading to Nest, the Mountain's spa and wellness facility offering dozens of unique services. Nest's serene, subterranean setting is staffed by a team of expert practitioners and outfitted with a tranquility lounge, LED sauna, steam showers and heated pool with a scenic infinity edge. It features nine treatments rooms, Embodiment Lab, movement studio, yoga studio and gymnasium with climbing wall.
At Blackberry Mountain, finding balance between science and nature is the foundation of health inside and out. So, treatments can include Biologique Recherche products, herbs sourced from the mountain itself, oxygen therapy, microdermabrasion, microcurrent, radiofrequency and more, plus the property is home to 5,000 acres of private national park with a private yoga platform, ariel yoga, ancient drumming and forest bathing, among other activities.
A wide variety of curated, holistic experiences are available, pairing treatments with exercises like hiking—with even a personalized six-hour agenda aimed at total balance and well-being. Guests can immerse themselves in energy healing experiences as well, including sound bathing, crystal meditation, reiki sessions and chakra balancing. Another wonderful feature of the Mountain—although it's passed around by word of mouth—is that the culinary team may send guests home with recipes for the healthy dishes they enjoy on site.
Continue reading for business tips and signature services in our Digital Magazine...
Alexandra Hudson is a speaker and writer based in Indianapolis.