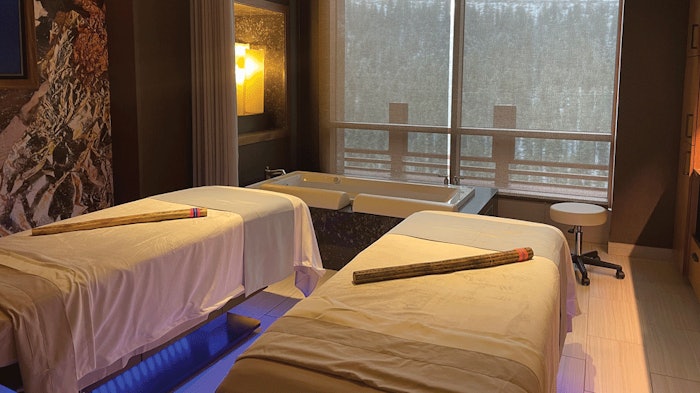 Located on the 23rd floor of the Monarch Casino Resort Spa (monarchblackhawk.com) near the rooftop pool, Spa Monarch has something for everyone when it comes to relaxing and rejuvenating wellness experiences—especially if they'd like to take more than one day to do it. The 12,000-square-foot space has seven treatment rooms, including single and couples massage rooms and esthetic rooms, plus two pedicure suites, salon, fitness center, rooftop deck, pool and hot tub.
Spa Monarch's featured amenities cover all the bases when it comes to holistic therapies. In addition to the Mountain Stonebath sauna and herbal steam rooms—complete with soft lighting and relaxing music—guests can enjoy the Laconium Relaxation Lounge, which has heated, contoured seating and a water feature that calms the mind while stimulating circulation to purify the body. The Brine Inhalation-Light Therapy Lounge combines the respiratory benefits of halotherapy with color-changing lights that rotate through the spectrum as soothing music is played.
Clients who are keener on hydrotherapy can take advantage of the Aqua Spa Lounge, featuring a jetted pool with waterfall massage and views of the Rocky Mountains, as well as an ice fountain to help refresh the body and spirit. Also in this area is the experiential shower aimed at stimulating the senses, circulation and immunity with its various programs, such as ice fog, tropical rain, gentle snowflakes and waterfall infused with aromatherapy.
BUSINESS SAVVY
According to Jenna Reeder, spa manager of Spa Monarch, running a team can be just as seamless as the guest experience she helps create. "Managing Spa Monarch's team members doesn't have to be stressful," she says. "After all, we work in a spa! We're fully booked nearly every day, but our team members know that they can rely on me and other leaders to ensure a smooth experience for guests and employees alike."
Continue Reading our Digital Magazine to read more about their signature treatments and business tips...