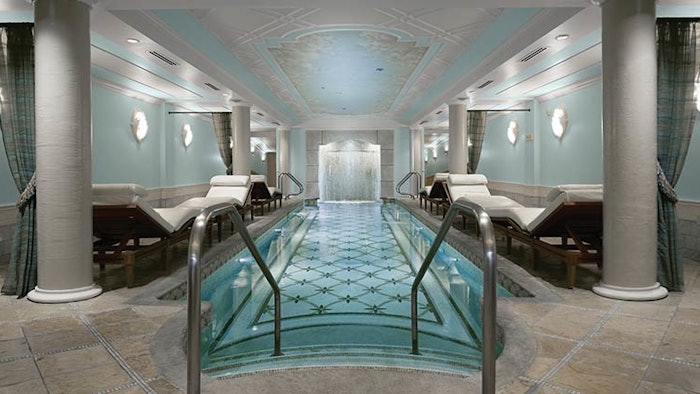 NEED TO KNOW
Since 1873, Kohler Waters Spa (destinationkohler.com) has been renowned for its cutting-edge hydrotherapy treatments and results-oriented face and body offerings. The only Forbes five-star rated spa in Wisconsin, Kohler Waters' goal is to deliver restorative experiences by connecting clients with the earth's healing, mineral-rich waters—and the 25,000-square-foot property has 26 treatment rooms and plenty of pools to achieve that goal. Guests can enjoy a coed relaxation pool, plunge pools and separate men's and women's whirlpools, as well as saunas, steam rooms, showers and a glass-enclosed rooftop deck.
Two of the treatment rooms feature the Kohler Custom Vichy Shower, which is used in several services and specially designed with the therapists in mind, allowing them to use their hands as well as apply added hydrotherapy elements, such as cold stones or contrasting temperatures with sprayers. The shower can quickly change water temperature and has extra effects, like a wave massage that promotes lymphatic drainage.
As part of the spa's mission to provide "world-class well-being experiences around every corner," it contains a café with indoor/outdoor seating and a health-conscious menu, as well as a corner bridal suite for groups of up to eight spa-goers. This spacious area allows for bridal parties to receive mani/pedis and hair treatments while dining on small bites and mimosas.
BUSINESS SAVVY
Nikki Miller, director of Kohler Waters Spas (Global), leads with passion while keeping empathy and flexibility top of mind. "These are necessary qualities in the industry as the spa world is ever-changing, but they became even more paramount in 2020," she explains. "Associate and guest needs are different; a spa leader must manage and build rapport with both. It's important to listen and be patient and kind. Motivating the associates and empowering them to influence the spa experience will only add to the genuine warmth and gracious hospitality that the guest experiences."
The resort offers frequent specials and promotions for locals, and it's this community support, combined with Kohler Waters' wellness treatments and upscale customer service, that keep clients coming back again and again. The spa maintains these high standards by providing regular training to employees. "This supports innovation and new menu creation. Our associates appreciate the professional development opportunities and the chance to influence offerings. In turn, our guests look forward to seasonal, fresh services," says Miller.
SIGNATURE SERVICE
Of course, Kohler Waters Spa is known for its wellness-elevating hydrotherapy treatments. One standout of many is Tranquil Tides (80 min./$219 on weekdays, $249 on weekends and holidays), a head-to-toe service that starts with a body exfoliation, followed by an application of body mud containing espresso that cleanses and brightens skin while encouraging circulation. The mud is then rinsed away using soft, heated water, and the client enjoys a therapeutic soak in a bath infused with healing magnesium, which helps relieve stress and muscle tension. They then return to the treatment table, thoroughly relaxed, for a soothing facial and a final body moisturizer application.
"One of the reasons our wellness-led, hydrotherapy services are so unique is because we're able to incorporate bathing and showering product innovations from Kohler Co., like our Kohler Custom Vichy Shower," says Miller. "The custom shower elevates the Tranquil Tides treatment by both rinsing the skin and warming the muscles, preparing the guest for the magnesium-enriched bath."
courtesy of KOHLER CO.