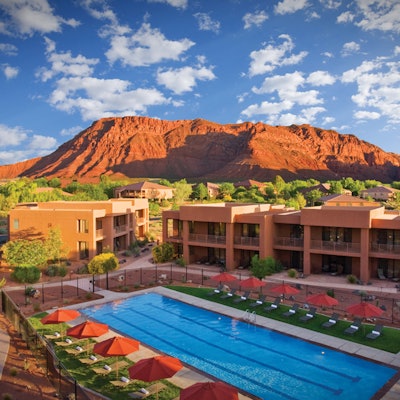 Tucked away in Utah's Red Mountain Resort lies SageStone Spa & Salon, where guests can unwind after exercise and adventure.
Location: Ivins, Utah
Owner: Red Mountain Resort
Opened: 2006
The Space: The spa covers 8,000 square feet, spreading over 3 floors to offer 14 treatment rooms, including 2 wet rooms, 1 multi- purpose room, 2 facial rooms, 8 massage rooms and 1 couple's massage room. The full-service salon has 1 hair station, 2 manicure stations and 2 pedicure stations. Men's and women's locker rooms have steam rooms and showers, and the second floor provides a relaxation area with a view.
Staff: 7 front desk staff, 7 locker staff, 8 estheticians, 11 salon professionals (hair stylists and nail techs combined), 28 massage therapists, 2 managers and 1 director.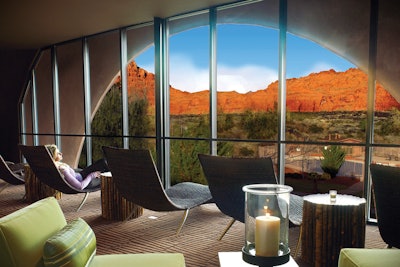 The Distinction
Just outside the desert town of St. George, Utah, Red Mountain Resort has been a retreat for more than 20 years. The adobe-style SageStone Spa & Salon was introduced to the 55-acre property in 2006. The resort is known for its focus on improving guests' health, wellness and balance, so it's no surprise the award-winning spa follows a similar ethos.
With a dome exterior, the spa spans three levels, providing guests with sweeping views of the resort's picturesque red rock backdrop. Taking inspiration from the natural surroundings, SageStone uses custom-blended indigenous desert botanicals, local honey and mineral-rich muds, clays and salts in its spa treatments. Ancient health and beauty rituals practiced all over the globe were also considered when designing the service menu. "Our goal is to offer guests transformative and continued results well beyond their stay," explains Marci Howard-May, SageStone director of spa and wellness.
Capturing Clientele
Howard-May believes that catering to the active resort clientele is a major reason for the spa's success. "Guests who come for adventure and the red rock scenery will find that our spa treatments are inspired by those very things," she explains. Some of the resort's retreat packages even include credits that can be redeemed at the spa, weaving together the two experiences. For example, "We offer a Red Rock Hikers Massage to alleviate the strains from an exhilarating day," Howard-May says. Offering new spa techniques while maintaining favorite signature services and introducing nontoxic, natural and results-driven products further contribute to the spa's appeal.
An e-newsletter keeps spa-goers informed about new treatments, discounts and announcements. Returning guests can gain access to the resort's Adventure Club, where they receive special perks like discounts on regularly priced spa services, wellness and retail purchases. And Black Friday deals, as well as other seasonal promotions, entice clients to rebook spa experiences.
Management M.O.
Tracey Welsh, general manager of Red Mountain Resort, encourages the SageStone Spa & Salon team to "be well where you work." In other words, employees are invited and encouraged to enjoy the resort amenities, fitness facilities, classes and activities. She believes that allowing staff members to fully immerse themselves in the spa gives them the opportunity to feel like they're truly part of a team and the overall wellness experience. "We empower our therapists to customize treatments to meet the needs of each guest," adds Welsh. "Our menu provides a great base, but it's ultimately our therapists who take the treatments to a transformative level."
In-Demand Services
The spa's signature offering, the Red Mountain Revitalizer (75 min./$175), is a full-body Vichy shower experience with a prickly pear body scrub, massage and cleansing scalp treatment. From seven showerheads, warm water cascades over the guest's body as the therapist customizes each step of the service to suit individual needs. "Guests feel pampered from head-to-toe, which is especially refreshing after a day of outdoor adventure or working out," notes Welsh. "Replenished" is the word Howard-May says best describes clients who receive the service.
The Sleep Tonic Massage (75 min./$185) is another popular body treatment designed to alleviate insomnia and calm the mind by focusing on specific areas of stress. "Applying efficient pressure to targeted areas facilitates the body's production of serotonin, a precursor for melatonin production," explains Welsh. Since sleep and rest affect a person's overall health and wellness so greatly, perfecting this treatment was paramount for therapists, who incorporate a calming massage oil and crystals into the service.
The Goods
The spa uses Body Bliss, Zents and Phytomer for massage and body treatments, and June Jacobs and Éminence products for skin care. SpaRitual and FarmHouse Fresh are used for nail services, while Aloxxi is featured in the hair salon. Additionally, retail products can be purchased in the spa's boutique.
– by Alisha Racker
[Images: Courtesy of Red Mountain Resort]
This story first appeared in the March 2020 issue of DAYSPA Magazine. To receive the magazine, subscribe here.