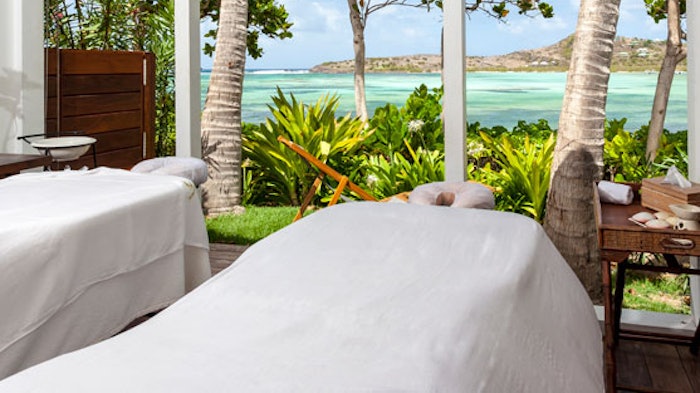 Need to Know
Following a complete hotel property rebuild in the wake of Hurricane Irma, the newly renovated Spa Le Sereno at Le Sereno Hotel is the only wellness destination in St. Barths with a waterfront treatment pavilion overlooking the Caribbean's Grand-Cul-de-Sac. A mix of French elegance and island chic, the 1,076-square-foot, three-room spa marries indoor and outdoor spaces to create a feel of laid-back luxury, complete with a serene garden where visitors can meditate or sip tea between services. The extensive menu of facials, body wraps and massages uses Swiss brand Valmont products and techniques exclusively, and the skilled spa staff of four (one director and three dual-licensed estheticians/massage therapists) also offers all treatments—including nail and hair services—to Le Sereno Hotel guests in the privacy of their own suites.
Business Savvy
With a dazzling array of indulgent, restorative and antiaging options, Spa Le Sereno caters to business travelers, celebrities and honeymooners, as well as affluent locals. Attracting this clientele is accomplished with a mix of traditional and social media marketing, word of mouth, and PR outreach on a global scale (which has resulted in features in Conde Nast Traveler, Forbes and Vanity Fair).
Having a talented team also helps immensely, so spa director Simao Da Silva seeks out experienced therapists who are skilled in multiple areas. "Each is licensed in bodywork and esthetics, and one is also trained in makeup and nails. This helps us because clients often request the same therapist for all of their spa needs," says Da Silva. He adds that turnover is low: These employees have been with the spa for four to five years. "Not only are they attracted to the beautiful location, but we also give them perks based on what makes them happy—for instance, a staffer who loves sports gets to use the Fly Board," notes Da Silva. "I have a great relationship with my team, and they have a great relationship with our repeat guests."
Signature Services
The Eau de Rêve Aqua Massage (60 min./$240) is the only service of its kind on the island, taking place in the hotel's tranquil, private lagoon. As the client floats in the water, the therapist gently stretches muscles and joints, releasing all tension. "This treatment is highly effective for stress relief, clearing the mind of negative emotions and easing aches and pains—ideal after a long day of travel," says Da Silva.
The Source des Bisses (60 min./$325; 90 min./$358) is a facial inspired by irrigation channels in the Swiss Wallis region. It begins with a mask to soften dead skin cells and prepare the face for exfoliation, followed by a dual massage. "A decongestant step similar to lymphatic drainage promotes circulation between cells and layers of the skin, and then a hydrating technique combines effleurage and smoothing strokes to help the active ingredients penetrate deep into the tissue," says Da Silva. "This treatment leaves the complexion plumped and toned, and redefines the contours of the face." Because of its ability to "quench even the thirstiest skin," says Da Silva, the facial is extremely popular with the spa's ocean-loving guests.
—Carrie Borzillo
This story first appeared in the December issue of DAYSPA Magazine. To receive the magazine, subscribe here.