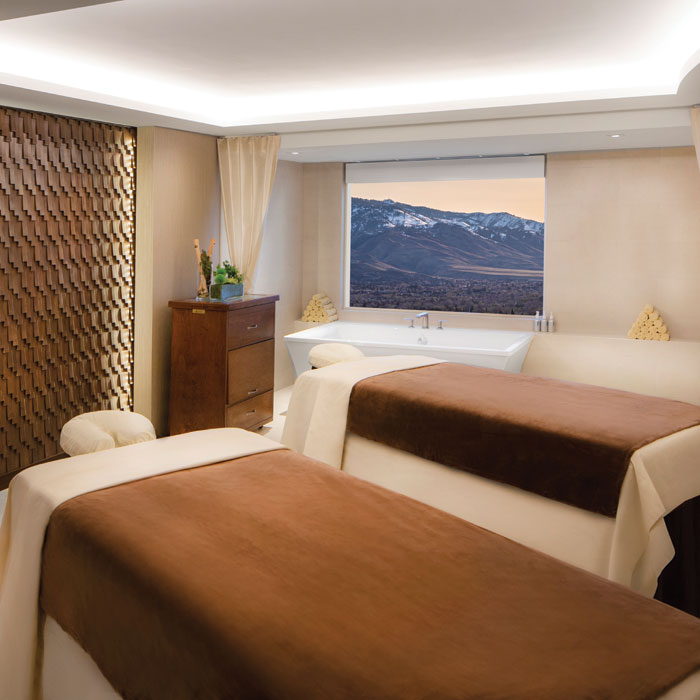 Nature truly meets nurture at this Lake Tahoe-adjacent haven.
The Distinction
THE ROW is a newly branded destination in the heart of Reno comprised of six contiguous city blocks, uniting the Eldorado Resort Casino, Circus Circus Reno and Silver Legacy Resort Casino. The Spa at Silver Legacy—part of a three-year, $100 million renovation plan—celebrates Reno and neighboring Lake Tahoe with holistic spa treatments, innovative architecture and local purveyors. The service menu reflects the Reno- Tahoe relationship by incorporating signature scents mixed from indigenous plants into treatments, all designed to give an outdoor feel. For example, Take a Hike (50 min./$55) is a men's pedicure inspired by the unparalleled hiking trails in the area. Artwork throughout the space highlights local landmarks, and textures mimic natural elements including pine cones and tree bark.
Capturing Clientele
The Spa at Silver Legacy heavily advertises its many differentiators in order to get guests' attention, focusing on its size, natural lighting, locally sourced products, hospitality suites and customized experiences. It blends traditional avenues, including print ads, TV spots and airport billboards, with digital displays and social media posts—typically short teaser clips and giveaways. In addition, the spa hosts exclusive tours, Instagram influencer trips and private parties with complimentary services to get the word out.
PHOTOS: The Spa at the Peaks Resort, Colorado
In-Demand Services
The spa's most popular offerings are the Fiery Snow Facial (80 min./$180) and Fiery Snow Massage (50 min./$150; 80 min./$190). "Each incorporates hot and cold elements representing the warmth of the desert and the snow of Lake Tahoe," says George Powell-Lopez, director of spa and wellness at THE ROW. "In the facial, the steam opens pores and cold marble stones constrict them, ensuring that the service's actives and nutrients are retained. Meanwhile, the massage is very relaxing as muscles respond to the contrasting temperatures."
Management M.O.
Powell-Lopez says that staff recruitment is often the biggest challenge. "Patience seems to be the key to success. Waiting to hire the right person who fits the culture and processes pays off," he shares. "We look for individuals with a great understanding of guest service and, most importantly, those who have a true passion for their work. Their ability to 'read' and address clients is paramount. When a team member loves what they do, it's easy to see in guest comments, requests and the employee's overall performance." He adds that the spa stresses customer service above all, and encourages spa staff to exceed expectations and strive to anticipate guests' needs.
PHOTOS: The Estuary Spa, Mount Pleasant, South Carolina
The Goods
In addition to a signature, coconut oil-based line by CoCo La Vie, the spa features products from ALO, Baxter for Men, Dazzle Dry, L'Deaux, Make Up Factory, Monica Mauro, Naturopathica, Om4Men, Redken, Salt of the Earth, Sorella Apothecary and Vimmia in its backbar and retail areas.
Location: Reno, Nevada.
Owner: Silver Legacy.
Opened: October 2018.
The Space: 21,000 square feet, with 3 couples suites, 4 individual treatment rooms, 5 facial treatment rooms, 3 relaxation lounges, a salt inhalation chamber, 7 hydrotherapy soaking tubs, 2 steam rooms, 2 saunas, and 2 private suites for parties and special events.
Staff: 1 director, 1 manager, 4 supervisors, 5 cosmetologists, 3 estheticians, 8 massage therapists, 7 concierges, 7 attendants.
–by Laura Carson Miller
This story first appeared in the April issue of Dayspa magazine. To receive the magazine, click here to subscribe.