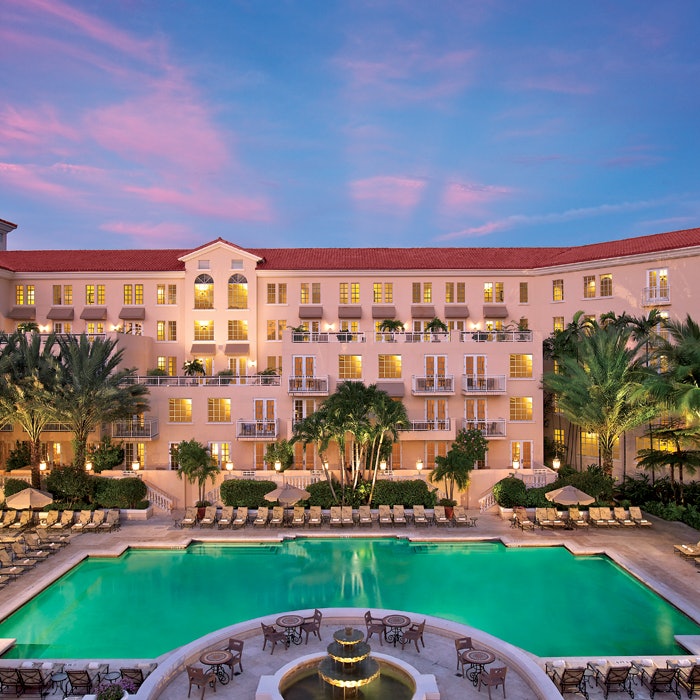 Walking through the grounds of the Turnberry Isle Miami resort and into the property's âme Spa & Wellness Collective is like leaving one version of paradise and entering another. Stunning purple orchids, stylish silver and gray accent pieces, and cozy, inviting furniture are classic spa touches, but it's the subtly trickling water installation beneath a sweeping circular staircase that immediately draws the eyes skyward—and fittingly so.
Up the grand steps, lined by wooden bannisters with intricate white siding, is where hundreds of spa, health and wellness services are performed. These top floors serve as the core of âme, which appropriately translates to "soul" in French.
However, the spa hasn't always looked like a perfectly curated Instagram feed, nor has it always been a one-stop shop for health and wellness services. But an extensive renovation—and an idea that stretches back nearly two decades—have finally come to fruition and breathed new life into the space.
PHOTOS: The New Four Seasons Hotel Downtown NYC
A Renovation With Vision
For the better half of 2016, Tammy Pahel ran the spa out of 10 hotel rooms in Turnberry Isle's Orchid wing. "We cleared them out, set them up as treatment suites and did the best we could to make the spaces as spa-like as possible," explains the spa director. But the sacrifice was well worth it: The Soffer family, who now owns the resort, was investing $2.5 million in the spa, allowing Pahel to finally fulfill a long-term vision.
"My dream when I came to this property in 2000 was to create and operate a spa that would provide all of the traditional modalities married with fitness, integrative medicine, Oriental Medicine, plastic surgery and dermatology in one cohesive space," she recalls. But in 2006, Fairmont acquired the property and visions didn't align, so she left to work as a spa consultant.
Fast-forward seven years, the Soffers regained control of Turnberry and were looking to renovate and reinvigorate its spa; reenter Pahel, eager to initiate the wellness ideas she'd always held. "When we were ready to renovate, I suggested we do something completely out of the box," she shares.
The resulting space, which opened in January, is an all- inclusive wellness destination with a service menu spanning nearly 40 pages. This seemingly overwhelming list of options is exactly on par with what Pahel had always pictured: a one-stop shop for all things health and wellness.
The spa offers 70 treatments ranging from traditional Swedish and aromatherapy massages to facials boosted with color and light therapy. Eastern medicine practices vary from reiki and acupuncture to cupping and hypnotherapy, and noninvasive options include everything from teeth whitening and brow services to radiofrequency (RF) skin tightening and dermal fillers. Plastic surgery, including body contouring, facial rejuvenation and breast enhancement, is also available. In addition, there's a full- service salon, nail bar, flotation tank and multi-room fitness space hosting more than 70 classes a week. Rezilir Health provides integrative functional medicine services, nurse and physician consultations, and nutritional and detox programs.
Guests are encouraged to arrive an hour before their service to experience âme's Wellness Circuit: a Himalayan salt and infrared therapy suite; aroma, chroma and music therapy steam room; and 17-head Swiss shower.
PHOTOS: Four Unique Hotel Spas in Prague
To further help âme stand out amid Miami's saturated spa scene, Pahel partnered with Sammy Gharieni, a German-based manufacturer of high-end spa and wellness equipment. "When I first met him, he mentioned that he was looking to establish a North American presence and was going to create a showroom in Miami's warehouse district," explains Pahel. "I said 'Wait a minute. I'm doing a renovation. I'll be your live showroom!' The next day he called me and said, 'We have a deal!'" The partnership is truly symbiotic: âme is home to $440,000 worth of Gharieni's equipment, and (in exchange) interested buyers are invited to experience the services that can be performed on them.
Reinventing and Rebranding
Âme's extensive service menu and beautiful new look are drawing in visitors, but the spa has had to work hard to rebrand itself. After all, Turnberry Isle was established in 1970 as a resort synonymous with luxury and wealth, not necessarily health and fitness. "It has been a challenge," admits Pahel. "Change doesn't always go well. But once people understand that they can come here to get a massage, work out, see a physical therapist and even get injectables in one place, they're sold."
Another key component of the spa's rebranding is Camp ÂME, a series of three-day, two-night retreats. Programs include The Vital Body with master yoga teacher Nikki Costello, and Plant Food and Wine with vegetarian chef and entrepreneur Matthew Kenney. These all-inclusive weekends feature two 50-minute spa treatments, healthy meals, yoga and meditation sessions, social gatherings and access to the spa's amenities, including the Wellness Circuit and fitness classes. "Our vision for these retreats was to work with diverse experts across wellness, fitness and beauty," explains Jeff Klein, vice president and managing director of Turnberry Isle. "We wanted to provide our clients with customized and unique experiences, and these immersive retreats are a big part of that."
Klein notes that wellness travel is becoming a bigger trend "as friends, families and individuals seek to better their lives and kick-start new habits." Pahel points to the mainstream cultural awareness of health and fitness as a part of her inspiration. "Our country is fully engaged with eating right, exercising and taking care of ourselves," she notes. "Camp ÂME's retreats fit right into that mindset."
Pahel expects other spas to follow suit. "I believe strongly that these programs make so much sense," she says. "But it's not for every business. Turnberry is ideal because we're a resort with a membership club, and we're in a wealthy community where our clients have disposable incomes and can take health care into their own hands to try and create a healthier lifestyle."
Team Gratitude
Reflecting on her management style, Pahel cites the importance of teamwork and valuing her employees. "As a spa director, your responsibility is to take care of your managers because they take care of your clients," she says. Part of appreciating your staff, she explains, is showing and telling them how much they're respected. "When you make people feel valued, they're more inclined to support you," she emphasizes. "If you motivate through positivity, your staff members are a lot more trusting. They're going to feel inspired to be part of your team, actively driving revenues, keeping the spa clean, and making it a great place to visit and work."
Pahel and the rest of the Turnberry staff must be doing something right: Turnover is unusually low. The spa pro reports that half the employees she hired when she worked at the resort between 2000 and 2006 were still there when she returned in 2013. "We have an incredible veteran staff who understands our business model," she says. Likewise, Pahel's longevity in the industry has prepared her to handle good times and bad. "I know how to be flexible, how to roll with the punches and how to be open minded," she says. "I've been doing this for 28 years and I'm still learning new things every day!"
– by Rachel Kossman
A newly renovated, all-inclusive wellness refuge is forging partnerships across Miami—and the world.