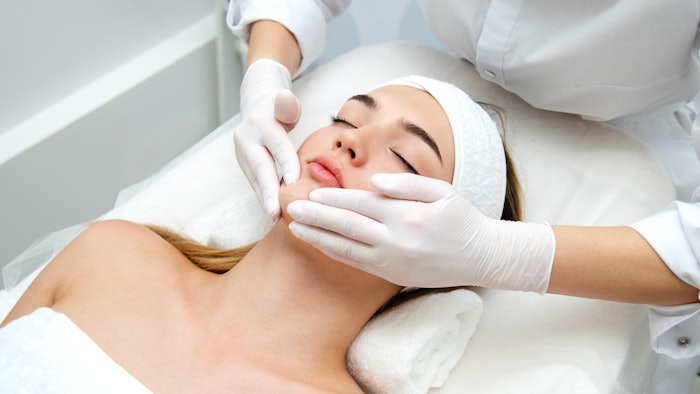 svetamart - stock.adobe.com
Hand & Stone Massage and Facial Spa is partnering with Dermalogica on new treatments and the addition of Dermalogica's first ever professional device, the Pro Pen, to its treatment offerings. 
Related: Dermalogica Launches MediSpa Professional Accreditation Program for Skin Therapists
Clear Start
Hand & Stone will work with Clear Start by Dermalogica on The Prevent & Glow treatment and Clear Start Body Treatment, which will each be offered as both 30-minute or 50-minute treatments and will leverage human touch paired with technology. Clear Start by Dermalogica caters specifically to those who struggle with breakouts and blackheads and it has a range of products designed to treat, repair and even prevent future breakouts.
Each treatment has a range of customizable options including Dermalogica's Pro Pen NanoInfusion, LED light therapy, gua sha and more. Treatments can be booked as one-offs or as part of a longer, clear skin maintenance series.
"We're delighted to join forces with Dermalogica to introduce their Clear Start by Dermalogica collection at Hand & Stone. Over the last 24 months, we've seen a meaningful percentage of the growing base of skin-centric consumers skewing younger, and this demo is incredibly knowledgeable about available skin treatments thanks to TikTok, Instagram, and Youtube," said Lisa Rossmann, SVP of Service and Product at Hand & Stone. "Last year, Hand & Stone added several budget-friendly facial tool enhancements to the menu to appeal to these consumers, such as Ice Globe and Gua Stone massage, along with ultrasonic technology. The Clear Start treatment makes perfect sense to appeal to the skin savvy Gen Z consumer, and we are thrilled to be the exclusive provider in North America."
"We're on a mission to make acne ski ncare fun, but without compromising on results, or your skin barrier. Our products really deliver, and to bring them into a new exclusive treatment with Hand & Stone really takes our offering to the next level," said Hannah Amor, business leader for Clear Start. We know our Gen Z consumer is looking for new ways to get clearer, healthier skin, but in an increasingly shorter timeframe. The new treatment with Hand & Stone allows them to see results fast, helping to clear, fade and even prevent future breakouts. Hand & Stone is the perfect partner for us, bringing their expertise of the newest treatment trends and pairing that with Clear Start and Dermalogica's professional-grade range of products."
The Pro Pen
Hand & Stone has also expanded its menu with Dermalogica's first ever professional device, the Pro Pen, a focus of two all new Dermalogica branded services, LuminFusion and NanoInfusion.
LuminFusion utilizes the Pro Pen technology to deeply infuse active ingredients and takes the experience a step further by combining it with a targeted retinol peel to resurface and renew, along with LED red light therapy to visibly restore skin luminosity.
Nanoinfusion is a non-invasive procedure which incorporates the use of a pen-style modality and nano-tips in lieu of needles. The Pro Pen uses tiny cones formed of either stainless steel or silicone which do not perforate the skin, but do help with resurfacing and product infusion.
Nanoinfusion is an appealing alternative treatment for clients who want results with no downtime or those who may be contraindicated to microneedling. It can also improve skin texture and boost hydration as well as address signs of premature skin aging. The most immediate, visible change in the skin is a hydrated glow.
"We are thrilled to introduce Dermalogica's Pro Pen and our exclusive LuminFusion and NanoInfusion treatments at Hand & Stone Massage and Facial Spa," Rossmann said. "These amplified skincare services deliver advanced results, visibly luminous skin, and a more youthful complexion, all with little to no down time, which meets the rising consumer demand for non-invasive treatments."