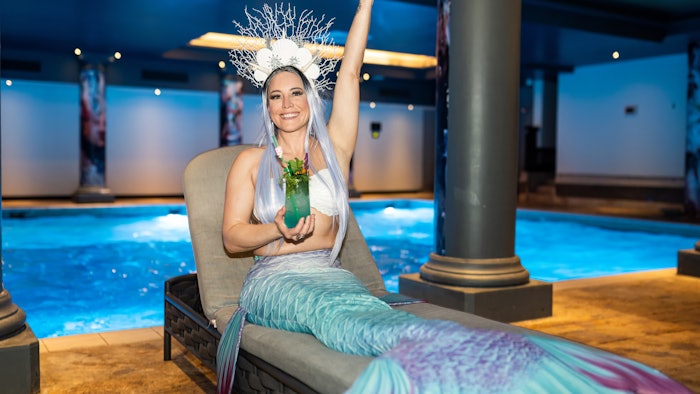 Photo courtesy of SpaSeekers
In collaboration with the Rena Spa at NYX Hotel London Holborn, SpaSeekers is offering mermaid lovers from all over the world to opportunity to experience a sea themed self-care day, complete with a real-life mermaid tail. 
Underwater enthusiasts get access to the Rena Spa's facilities including a Greco-Roman swimming pool, sauna, steam room and gymnasium. Spa-goers will also be able to play out their dream of being a real-life mermaid by wearing their mermaid tails. Those visiting the Under The Sea Spa Day will receive a choice of one of the three sea-inspired treatments being offered. 
"As the release date for the remake of The Little Mermaid approaches, we wanted to give mermaid fans the opportunity to celebrate with an under-the-sea, self-care day they'll never forget," said Jason Goldberg, Director of SpaSeekers. "We love creating unique experiences for our guests, and our Under The Sea Spa experience is one of our most special yet, with visitors having the chance to experience sea-themed treatments, drink nautical cocktails – and even try on their very own mermaid tail poolside."
Related: [Trending] Mermaids In The Spa
Under The Sea Spa Day Treatments
1. Mermaid's Glow Facial (50 min.)
To achieve mermaid-like radiant and shimmering skin, this facial revitalizes and repairs skin through the collagen-stimulating properties of Hebridean seaweed. Suitable for all skin types, the ishga Facial will brighten and balance skin tone, while improving texture and protecting skin from environmental damage with its potent antioxidant properties.
2. Siren Song Massage (50 min.)
Just like a siren's song, this massage will be both soothing and mesmerizing. An uplifting Hebridean seaweed body oil, with the signature ishga scent of lemongrass, juniper berry, lavender and rose geranium, will be used to energize and invigorate the body.
3. Deep Sea Botox Wrap (50 min.)
This treatment will make spa goers feel like a true sea goddess. Allow the bioactive components of Hebridean seaweed to detoxify the body with this unique treatment, which includes a sea salt and oil scrub and scalp massage. Antioxidant-rich seaweed gel is combined with the collagen-stimulating properties of the Hebridean sea salt scrub. The treatment will help to eliminate toxins and congestion from the body while improving skin tone and texture, leaving skin as smooth and shimmery as a mermaid's tail.