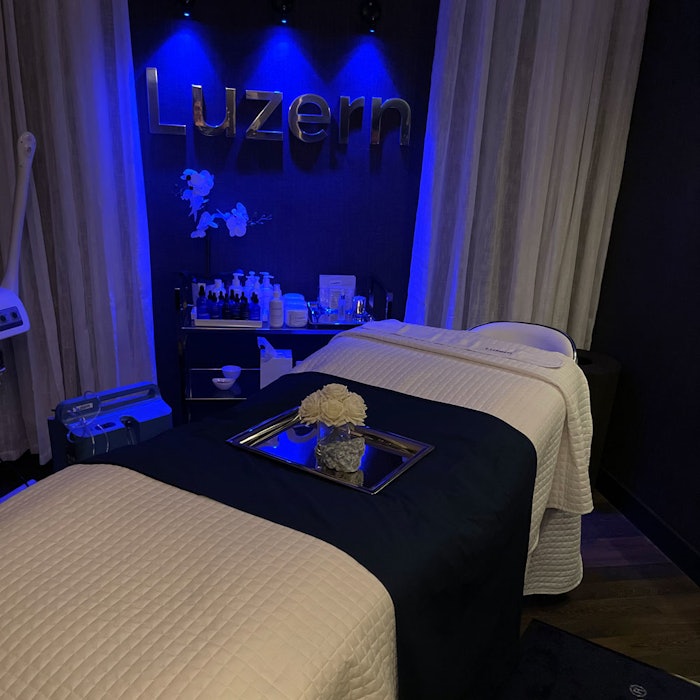 Luzern debuted a facial treatment suite at the Rtiz-Carlton Spa, Chicago by K'Alma, which marks the first Luzern branded spa suite in the U.S. The suite was designed around the five elements incorporating Earth, Air, Fire, Water and Sound. 
"One of the reasons we are so excited about this location is that, like Luzern, it perfectly blends a classic luxury experience with the clean and modern...The space is incredibly serene and beautiful with attention being paid to all external elements including sound, light and air. Small touches include a crystal quartz bed, ion air therapy, andanew Luzern signature scent that was inspired by the fragrant bouquet of summer in the Swiss countryside. The Force De Vie Facial focuses on the three life force elements needed for beautiful skin, oxygen, water and nutrients and it is delivered with a classical touch (always the best) and uses layer upon layer of gentle massage application using the world's cleanest and most luxurious ingredients."
Luzern's Spa Suite
The customization of the Luzern suite paid acute attention to detail with how each of the elements was incorporated. 
Earth. The bed in the suite utilizes a quartz crystal mat, there are strategically placed crystals throughout the wuite and luxury coverings from Matouk.
Air. Oxygen Infusion is used during the facial itself and hot and cold steam is incorporated with aromatherapy using Luzern's signature scent. 
Fire. Candles and custmoized Luzern branded art pieces that represent the elemental fire symbol adorn the treatment suite. 
Water. Glacial water is used in the Luzern treatment products, and there are also blue elements used throughout the wuite with customized Luzern branded art pieces that represent rain. 
Sound. Bluetooth sound is built into the bed to enhance the guest's experience to heal, relax and renew. 
The facial being offered at the Ritz-Carlton Spa in Chicago is the Force de Vie or "lifeforce" facial, and Maggie Walker, associate managing editor of Skin Inc. got the chance to experience this unique treatment and treatment suite first hand for WellSpa 360 and Skin Inc. 
An Elemental Experience with Luzern
When Daniella, my esthetician, brought me to the Luzern suite, I have to say I was definitely surprised. Not only was the suite absolutely stunning, but it had a gorgeous blue glow all around it that truly set my brain at peace just upon entering the room. Daniella showed me the heated amethyst matt that was on the bed to provide extra relaxation, and let me tell you, it did it's job perfectly. Daniella explained that the inclusion of that matt was unique to the Luzern suite specifically. 
Another detail that I noticed immediately in the room was the scent. There was a fresh and vibrant scent in this room that I had not smelled anywhere else in the spa. It truly helped to transport me from lounging to spa treatment, and it smelled divine.
After I got comfortable and under the nice warm blankets, Daniella started off my treatment with a cleanse. She used the pure cleansing cream and worked it beautifully into my skin using some absolutley divine facial massage techniques. It did not take very long for me to feel myself slipping into a dreamy state once her hands got to work.
After the cleanse, Danielle and I decided to add a resurfacing peel enhancement that is not a part of the original Force de Vie treatment, because trust me when I say my skin needed it. Once the peel was applied, Danielle used a FOREO device to massage it into my skin before removing it. Once the peel was removed, she added some massage oil to my skin and began the facial massage. Now I love a good facial massage to start, but Danielle's hands were truly MAGIC. I felt the tension and stress that I was holding in my face just melt away as she took her time to really provide a one-of-a-kind facial massage. She also used steam during this step, which both helped with the glide for the massage and the relaxation factor for me. I was slipping into a sleepy daze in no time. 
Unfortunately, like all good things, the facial massage did have to come to an end, and then Danielle went into some pretty heavy duty extractions. My skin was definitely suffering from some congestion and clogged pores, so it was really nice to get some expert hands in there to help clear some of that out. After the extractions we moved into the O2 infusion portion of the treatment using the Luzern device, which is an infusion boost enhanced with oxygen. The timing of this could not have been any better as it felt soothing and cooling to my skin, which was perfect after the peel, steam and extractions. 
I happily began to slip back into that state between being awake and asleep during the O2 infusion, and this was only solidified when Danielle moved into applying the bio-cellulose sculpting masque. This further enhanced that cooling and soothing sensation that the O2 infusion started. My skin had felt dry, congested and irritated before entering this treatment, and now I could really feel it becoming clear, soothed and hydrated as this mask worked its magic. 
I was blessed to get even more massage while the mask sat on my skin with Danielle performing an enchanting decollete and arm massage. I absolutely was tipped over the edge and began all but snoring when Danielle transitioned over into a scalp massage for the last few minutes of the mask. Once the mask was peeled off, the treatment was finished with the Pure Oxygen Eye Contour Cream, lip enhancing serum (which was a total fave of mine) and finally the Pure Oxygen Delux Cream. 
It's safe to say after that stellar treatment my skin had some lovely circulation brought back to it, so I had a gorgeous pink and rosy glow to me. My skin felt hydrated and happy, and so was I!