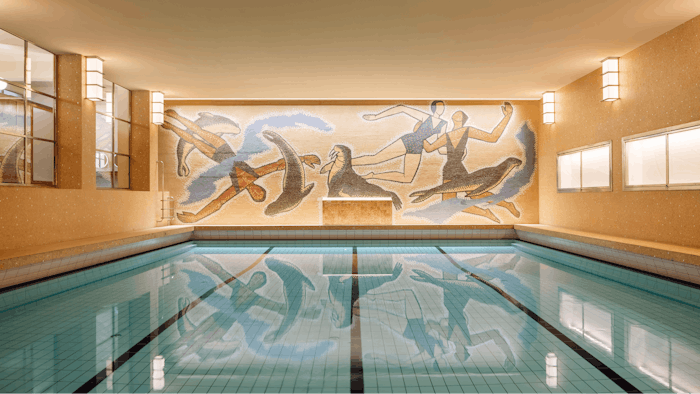 Photo courtesy of Sommerro
Sommerro, a luxury wellness hotel in Oslo, Norway, has officially opened its wellness space. Serving as the largest city resort wellness space across the Nordic countries and comprising one of Norway's last remaining public baths from 1932, the newly restored Vestkantbadet has been reimagined as a subterranean urban retreat for health and mindfulness. 
Related: 6 Scandinavian Wellness Secrets
Vestkantbadet features a series of treatment rooms, gym, infrared sauna and cold plunge pool offering a traditional Nordic thermotherapy experience. Celebrating Oslo's famous and historic bathing culture, an original Roman bath has been transformed into a cold plunge pool, and the public bathing facilities will feature 18 different rooms. 
Wellness Experiences
Vestkantbadet offers guests a wide array of tailored traditional treatments, along with specialized, cutting-edge wellness therapies. The treatment menu features restorative reflexology, rejuvenating sports massages and more.
For a full body experience, the traditional Nordic thermotherapy circuit includes an infrared sauna and cold plunge pool. The ritual is based on a 2,000-year-old Nordic tradition that involves alternating between hot and cold temperatures to accelerate recovery and healing. Wim Hof-style cold water breathing technique sessions are also available. 
Other holistic experiences include nutritionist workshops and two-day electric sauna boat retreats on the fjord by sauna masters. Guests can improve sleep health with one-on-one sleeping sessions and masterclasses with a local expert, complemented by a sleep soundtrack. 
Facials include relaxing massages, chemical peels, algae wraps, masks, microneedling, LED light treatments and much more. This is also the first property in the Nordics to offer specialist medical aesthetic treatments, including a laser skin program. Skin care partners include: Elemis, SkinBetterScience, Babor, Skinceuticals, Meline and Noon Aesthetics, along with Dr. Dennis Gross Skincare.