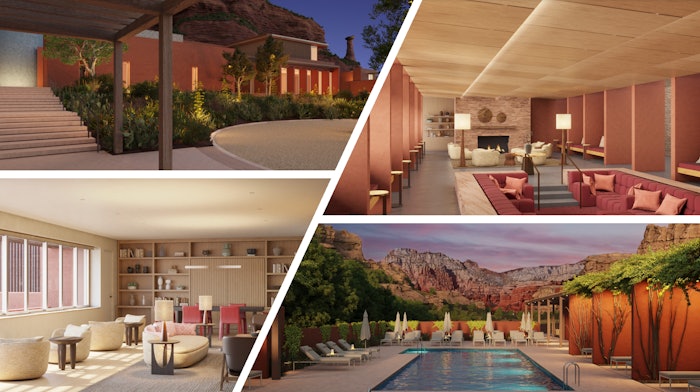 Photo courtesy of Mii Amo
Mii Amo, a destination spa in Sedona, Arizona, plans to reopen on Feb. 2, 2023, and reveal its $40 million renovation and expansion. 
The expansion will feature a light-filled movement and fitness wing, a signature restaurant, dedicated consultation wing, a private suite of spaces for Journey guests, new treatment rooms, guest rooms and suites. 
Related: Mii Amo Unveils Virtual Wellness Series
Gathering Spaces
The Crystal Grotto is being refreshed and remains an ideal setting for daily meditation and reflection. All of the new spaces directly connect guests to the destination spa's outdoor surroundings. They include the Relaxation Lounge and Garden, Journey Plunge Pool and Garden, a Sensory Garden with a reflexology path, and expanded outdoor dining, an outdoor lounge and fireplace. 
Spa & Well-Being
The spa facilities will include 21 treatment rooms, 14 single massage rooms, three facial rooms, two rooms with dry float tables, one sound lounge room, one couple's massage room, new steam rooms and saunas. A consultation wing with a dedicated relaxation space has been added to provide a private setting for sessions with Mi Amo's mindfulness team and therapists. 
As a part of their commitment to well-being, the spa decided to extend the length of spa treatments. Formerly offered in 60- or 90-minute sessions, the new standard will be 75-, 100- or 125-minute sessions. 
"Slow well-being is about having the time and space to reflect, reconnect, restore and re-engage with the facets in our lives that most serve and fulfill us. At Mii Amo, we want to lean in to supporting this intention with each of our guests," said Mii Amo managing director, Stan Kantowski. 
Fitness Offerings
The new fitness and movement studios with expanded programming will offer newly hired fitness leaders that guide guests through a series of classes and programs. Trail House offers hike-in/hike-out, bike-in/bike-out experiences under the guidance of expert hiking and mountain bike guides and naturalists. 
"For two decades, Mii Amo was a pioneer in the spa space," said Tracy Tang, chair of Enchantment Group board of directors. "We decided to invest in a major renovation and expansion because we are committed to Mii Amo and its continued standing as a trailblazer in the world of luxury well-being."