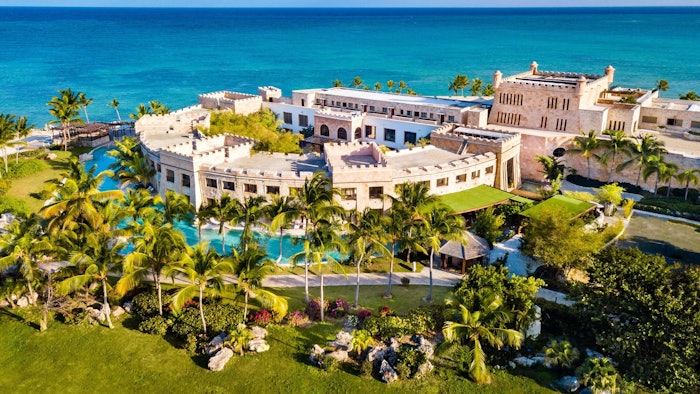 Courtesy of Sanctuary Cap Cana
Check out these three properties that have opened their doors and welcomed guests with innovative wellness programming. 
1. Sanctuary Cap Cana
Sanctuary Cap Cana, a Luxury Collection All-Inclusive Resort, has debuted in the Dominican Republic, providing bespoke offerings and unique experiences to guests. It is part of the luxe All-Inclusive collection by Marriott Bonvoy. 
The adults-only resort features 324 suites across 19 unique room categories, including oceanfront luxury villas and private island suites. The property has six pools for relaxation, as well as cabanas and sunchairs on beautiful beaches.
The Sanctuary Spa is designed to represent pure indulgence, offering Ayurvedic treatments, hydrotherapy, couples massage cabins and other cutting-edge therapies that can be combined to create the ultimate spa experience. 
Guests can discover the Dominican Republic through with a variety of activities, such as water sports, outdoor activities, shopping and more.
2. Avesta Ketamine and Wellness
Avesta Ketamine and Wellness has opened a third location in Washington, DC. Avesta is known for its cutting-edge ketamine infusions and IV vitamin therapies, and was founded by Ladan Eshkevari, Ph.D., is whose expertise is anesthesia and pain management, stress, endocrinology and acupuncture. 
Avesta Ketamine and Wellness offers a private setting with compassionate, knowledgeable staff who keep safety and well-being at the forefront of their personalized care. The ketamine-based treatments are popular for conditions including treatment-resistant depression, post-traumatic stress disorder (PTSD), anxiety, obsessive-compulsive disorder (OCD), other mood disorders, complex regional pain syndrome (CRPS) and other neuropathic pain conditions. 
IV vitamin therapy is administered to restore and revitalize the body and mind. The vitamins, minerals, electrolytes and amino acid supplements can be added to ketamine treatments or used on their own to promote better health and hydration. 
3. Four Seasons Resort Tamarindo, Mexico
Located on a private peninsula on the Pacific coast surrounded by verdant jungle, Four Seasons Resort Tamarindo, Mexico is set to open in late 2022.
The resort will include 157 Mexican accommodations, many with private pools, plus transformative spa and wellness experiences, and more. Notably, only 2% of the surrounding nature reserve will be developed, as part of the property's commitment to "rewilding" and supporting the balance of nature. ns."
The Discovery Centre immediately connects guests to their natural surroundings, with an on-site team of biologists who introduce them to the area's biodiversity—including hundreds of birds, mammals, amphibians and reptiles that live throughout the reserve. The property also has a working farm, and the cultivating of indigenous and newly introduced plants supplies the resort's restaurants with zero-mile, root-to-dish produce. 
The Spa experience at Four Seasons continues the journey of immersion in the culture and landscape of the region, with treatments like a temazcal ceremony, a pre-Hispanic tradition that involves medicinal herbs and spiritual rituals that encourage reflection, contemplation and re-connection.
Facilities also include a fitness center, three additional pools, three beaches and numerous coves ringing the peninsula.