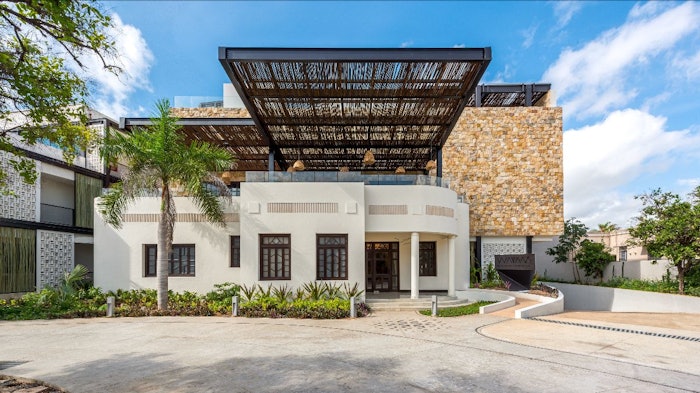 Photo courtesy of WAYAM Mundo Imperial
WAYAM Mundo Imperial declared November its Wellness Month and offered a calendar of free weekly events for guests to treat their minds, bodies and spirits during their stay at the resort. 
Related: Canyon Ranch Unveils Wellness Ecosystem that Includes Resorts, Clubs & App
Wellness Month joins the ongoing holistic activities at WAYAM, including weekly jazz nights and monthly New Moon events, which honor each month's new moon placement with meditation, conscious movement and other exercises. The activities are part of WAYAM 360, the property's concept of tying in a range of experiences—culinary, adventure, nature and crafts—to a guest's stay. 
Wellness Month in Review
Nov. 1 & 2
Dia de Muertos Altar and Ceremonial Burning: The month kicked off with a traditional altar and burning of copal for Dia de Muertos each night at 7:30 p.m. This holiday commemorates loved ones that have passed on.
Tuesdays
Hatha Yoga: Yoga enthusiasts and beginners alike began their mornings at 8 a.m. with hatha yoga on the constellation terrace, inspiring the cultivation of positive personal movements and actions.
Saturdays
Approach to the Crystals: Guests connected with crystals and learned about the unique beauty, properties and benefits of this sacred form of energy.
Sundays
Sound Baths: Himalayan singing bowls awakened guests' senses and instilled deep relaxation each Sunday evening.
"Wellness is a founding element of WAYAM, and guests are increasingly seeking these options during their stay here. We hope guests enjoy Wellness Month as we continue to develop our holistic hospitality into the new year," said Mauricio Ramirez, commercial & marketing director at Mundo Imperial Entertainment & Hospitality.