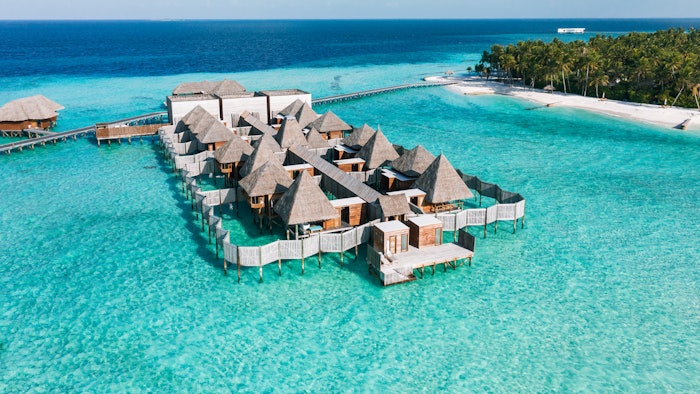 Photo courtesy of Maldives Rangali Island
Conrad Maldives Rangali Island welcomed visiting wellness practitioner, Ranjith Saj, for a residency from Oct. 18 through Nov. 17, 2022. Saj will share his expertise in holistic wellness with hotel guests, employing extensive treatments with simple tools including bamboo and therapeutic oils. The holistic practitioner has more than 15 years of experience within luxury branded hotels, resorts and spas around the world. 
During his residency on the island, Saj will work with guests to identify and design a wellness program suited to their needs and ensure long-lasting results. A variety of healing and rejuvenating treatments will be available during the month-long residency including: Ayurveda Immune Booster, Ayur Vedic Healing Therapy, Warm Bamboo Massage Therapy and Reflexology treatments.
Related: 3 Ayurveda Treatments from Four Seasons Lanai
Additional Overwater Spa Offerings 
Guests visiting the overwater spa enjoy experiences that inspire and invigorate the body, mind and soul. Adding to four private spa suites, the space has been renovated with a new reception area, changing rooms and spacious showers.
The spa's holistic treatments that include rejuvenating radiance facials, nourishing body wraps and 17 rituals that have been crafted to strengthen, sooth and heal. The services channel the properties of water, essential oils and gemstones. 
The luxurious sanctuary aims to address every aspect of guests' health and well-being, from diet and body treatments to beauty. The spa has a dining outlet where spa-goers can enjoy meals after treatments that feature organic produce and ingredients grown locally on the island.