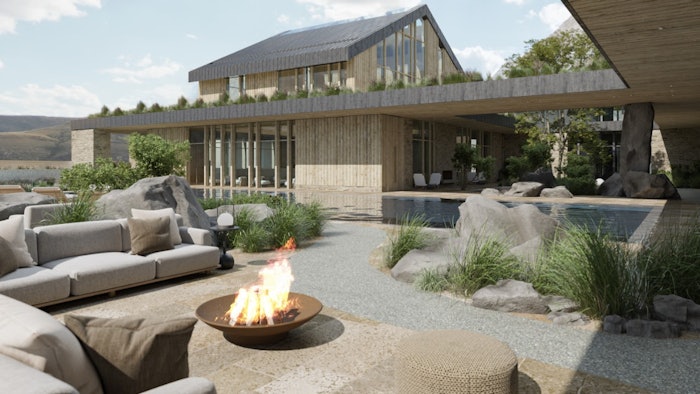 Photo courtesy of Magleby Development
Magleby Development announced the groundbreaking of Velvære, a wellness community adjacent to Park City's Deer Valley Resort. The new development will be dedicated to providing residents and club members a holistic well-being and adventure-centric lifestyle. 
Velvære highlights nature and intentional living. The community will offer amenity facilities with forward-thinking technology and curated transformative experiences aimed at providing residents and members proven health benefits, peak personal performance and authentically balanced lives. 
The 60-acre community with 115 planned residences will feature discovery-focused outdoor spaces, an integrative wellness center and family adventure center all woven into one property. 
Related: Auberge's Wildflower Farms Opens for Nature Lovers
Homeowners at Velvære will have a well-being membership, granting them access to all of the club offerings. In addition, a limited number of wellness club memberships will be available for purchase to non-homeowners, granting exclusive access to the wellness amenities. 
The Wellness Center will feature industry-leading technology and hyper-wellness experiences including: cryotherapy, a hyperbaric chamber/pod, LightStim LED, floatation pool, nutrition programs for microbiome and biohacking, lymphatic drainage, IV therapy, thermal and contrast bathing, fitness training, yoga, meditation, sound baths, integrative medicine, cognitive health and more. 
Nature-oriented pools with secluded spaces and a fitness training center will provide areas for movement and relaxation, while culinary options and a recovery center will provide space for nourishment and revitalization.
Velvære has also enrolled with the International WELL Building Institute to pursue the WELL Certification under the WELL Building Standard, the performance-based, third-party verified rating system focused on measuring, certifying and monitoring design and operation features of the built environment that impact human health and well-being.
"Our vision is to create a community where health, well-being and a better future is at the forefront of every amenity, experience and residence," said Chad Magleby, CEO of Magleby Development. "Our goal is to truly revolutionize what it means to be 'well' and inspire wellness-based communities of all kinds not just in Utah, but around the world."