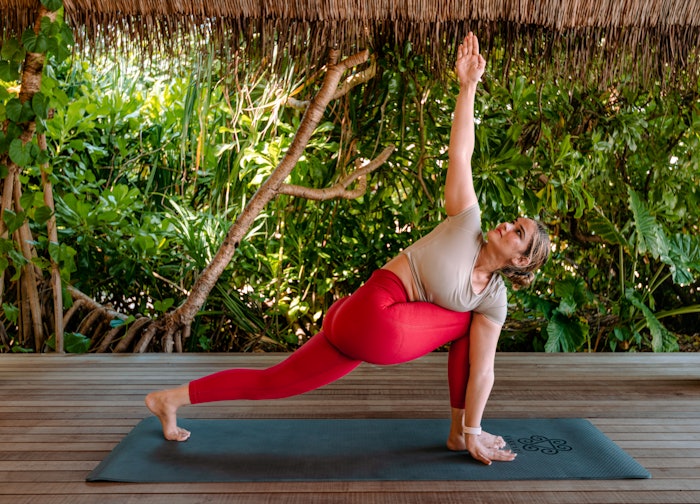 Photo courtesy of Vakkaru Maldives
Vakkaru Maldives has appointed Anj u Rathi as its new resident yoga and fitness instructor, tasked with enhancing the resort's fitness and wellness programs. 
A master in naturopathy and yoga science, Rathi has eight years of yoga experience and expertise in various yoga practices and techniques including Ashtanga, Yin, Hatha, restorative and therapeutic yoga. She specializes in the programmatic delivery of yoga therapy and wellness programs for experienced practitioners as well as beginners.
Rathi has created multiple transformational mind and body yoga programs for guests at Vakkaru Maldives, such as therapeutic yoga and prenatal yoga. 
Rathi's therapeutic yoga is a one-on-one session that takes a holistic approach to alleviating pain, arthritis or other various health issues. During the session, Rathi guides guests through specific yoga postures and techniques. During prenatal yoga, she helps future moms prepare for childbirth by relaxing the body and teaching safe techniques and poses throughout the stages of pregnancy. 
Rathi also takes a holistic approach to fitness training, creating personalized fitness and physical therapy programs for guests based on their physical condition and goals. Programs include cardio and core treating, Pilates, high-intensity interval training (HIT), weight lifting and a barefoot beach workout. 
"The ancient practices of yoga help to restore mind and body. My job is to use yoga and its philosophy to develop body-mind-spirit awareness, physical flexibility and strength," said Rathi. "In addition, I adopt a holistic approach to fitness training and strongly focus on execution to improve overall health and well-being in a calming and encouraging environment."