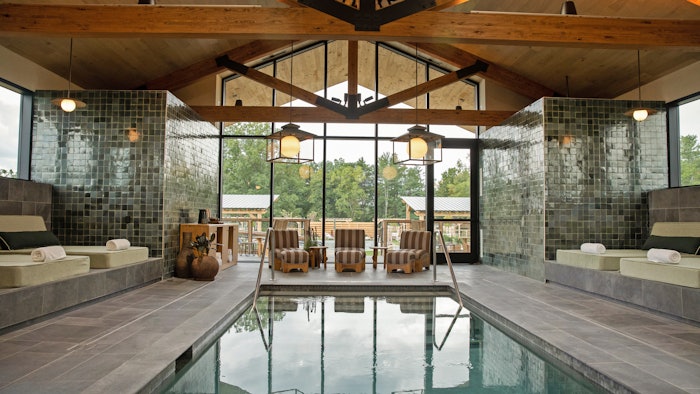 Photo courtesy of Wildflower Farms, Auberge Resorts Collection
Wildflower Farms, Auberge Resorts Collection has officially opened its doors. The an environmentally conscious, luxury retreat is located in the Catskill Mountains, with the grounds that expand across orchards, woodlands, a farm, heirloom gardens and fields of native wildflowers.
The property has 65 cottages and suites, Thistle, An Auberge Spa, Maplehouse cooking school and a signature restaurant. 
Related: Auberge Resorts and THE WELL Create Sleep Programming
Thistle, an Auberge Spa, is a wellness facility that utilizes the power of nature and its cycles to offer personalized seasonal treatment menus. It features six treatment rooms, outdoor hot tubs and an indoor saltwater pool.
Offerings are often a combination of natural remedies, therapeutic bodywork and the life-enhancing principles of slow wellness. Thistle's treatment menu was designed to nurture via three integrated elements:
A modern apothecary that produces hand-harvested, small-batch botanical oils, scrubs and flower remedies in partnership with Cultivate Apothecary,
Immersive outdoor experiences that focus on "re-wilding" the spirit,
Joyful exploration, which is integrated into each experience to provide an sense of holistic well-being. 
Beyond the spa, Wildflower Farms is home to an open-air fitness center, a movement studio offering daily classes and miles of hiking trails. The curated experiences program is designed to bring guests closer to nature and fulfill every season's potential for joy, connection and pleasure. Some of the offerings include pressed flower property, flower arranging and cyanotype printing. 
The Maplehouse education center allows guests to further engage with the land via hands-on foraging and harvesting experiences, botanical mixology, pickling and preserving, botanical baking classes and picnics in scenic locations.
"We are honored to introduce Auberge Resorts Collection's first property in the legendary Hudson Valley," said Craig Reid, president and chief executive officer of Auberge Resorts Collection. "Harnessing the power of nature in its simplest form, Wildflower Farms offers solace, sanctuary and joyful opportunities to reconnect with nature."