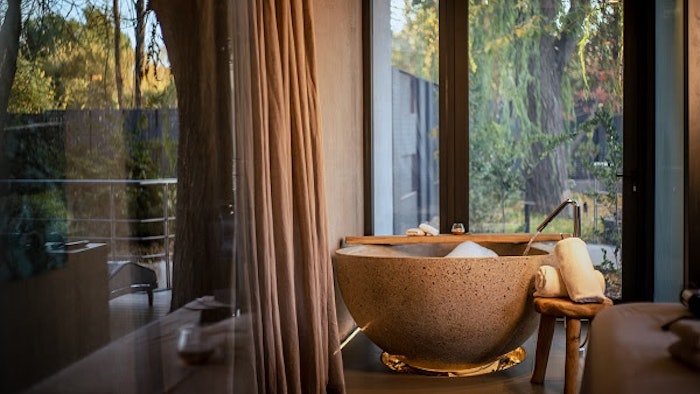 Photo courtesy of SB Winermaker's House & Spa Suites.
Three recently opened destination resorts and wellness properties are offering Kalimera yoga sessions to balance guest's energy, state-of-the-art fitness programs and a Wellness Butler who curates custom experiences for every guest. Here are their brand new offerings. 
Related: 2 International Wellness Destinations Open Their Doors
This highly anticipated Greek integrated resort is set within a scenic 32-acre site along the beach, stretching 1,500 feet of shoreline, and overlooks the protected and historic Bay of Navarino. The resort will welcome adults and young adults over 12 years old and introduce a place that fosters creativity, individuality and freedom of expression. 
The AWAY Spa offers an menu of treatments designed to balance guests' energy. The FIT gym has an outdoor heated pool and the latest gym equipment for guests wanting to maintain their fitness routine on vacation.
There is also a program of workout classes and wellness experiences designed for any fitness level, including beach boot camp classes, Kalimera yoga sessions, 5 Rhythms dance movement meditation practice and beach power Pilates. 
Life Time Palm Beach Gardens is a boutique destination with dedicated studios for large group classes including barre, cardio and strength, indoor cycling, Pilates and yoga. The facility has state-of-the-art equipment for cardio, strength and functional training. There will be designated spaces for personal and signature group training programs GTX, Alpha and Ultra Fit. 
The location will also feature programming designed for active agers with classes, social events and seminars. LifeSpa offers full-service salon and spa services, including hair, nail, esthetic and massage services. The LT Recovery will feature compression, massage and chiropractic services. Luxury dressing rooms also have whirlpool and cold plunge suites, along with saunas and steam rooms. 
Renowned winemaker Susana Balbo has opened her first hotel in the famed wine region of Mendoza. The seven spa suites feature fully integrated in-room spa features and services. Suites feature a steam room, sensations shower and massage table. Four of the seven suites are also equipped with a dry sauna. 
Guided by the in-house Wellness Butler, guests can choose from various wellness rituals using local herbs and other ingredients. Treatments range from relaxing geothermal therapy massages to a body exfoliation with grape seeds. Two multi-sensory wellness rituals, Deluxe SB Detox Ritual and Deluxe SB Frutos De A Vid Ritual, offer a multi-step sequence with therapies including a steam bath, restorative shower, hydration wraps and massages, among other healing treatments. 
A yoga mat and exercise kit are also available. Guests can also work with a personal trainer and have access and transportation to the top gym in Mendoza.