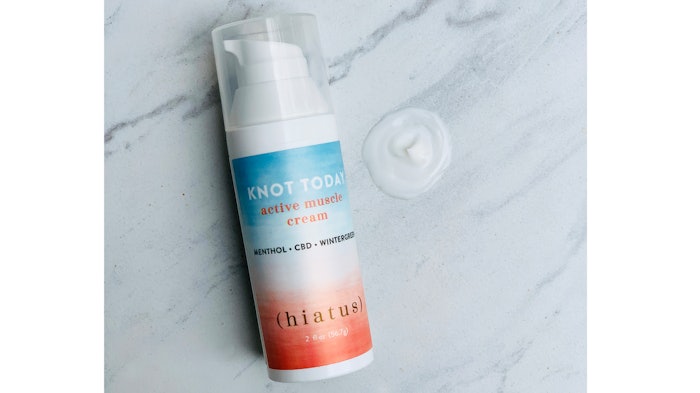 Texas-based Hiatus Spa + Retreat has debuted a clean CBD line of products: Knot Today Active Muscle CBD Cream and Knot Today Soothing Joint Serum. Both products are available to clients online and at the eight Hiatus Spa locations.
Related: 3 Full CBD Treatment Protocols to Inspire Your Spa Menu
The Knot Today products contain Hiatus' 99.5% pure, 100% THC-free CBD, which helps provide relief for clients experiencing muscle or joint pain, including athletes with delayed onset muscle soreness, anyone recovering from injury, and those with chronic conditions like arthritis or tendonitis. 
Knot Today Active Muscle CBD Cream is a 12% menthol concentration that provides an immediate cooling sensation, while methyl salicylate (smelling of wintergreen) leaves a lasting warming sensation after the menthol subsides. It is ideal for sore muscles, plus arnica helps reduce swelling and bruising. 
Knot Today Soothing Joint Serum pairs CBD with a joint-nourishing herbal cocktail of German chamomile, lavender, sweet marjoram, frankincense and a hint of cooling peppermint.