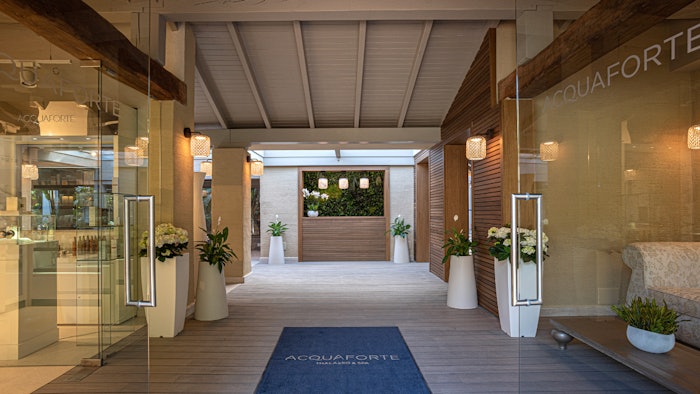 Forte Village has renovated their Acquaforte Thalasso & Spa for the 2022 season. The redesign of the spa space combines deep-rooted thalassotherapy with immersion in nature to create a mind and body wellness experience. 
The spa is led by Dr. Angelo Cerina, who introduced thalassotherapy to the world 32 years ago. This therapy treatment method is focused in the therapeutic powers of seawater. Acquaforte Thalasso & Spa is now home to a variety of medical professionals including sports, esthetics, and dietary medicine specialists who utilize the therapy for their clients. 
Related: From Sea to Shining Seaweed
The location consists of a sub-tropical garden landscape, six pool Thalasso circuit, a gym space, 30 treatment rooms, an herbal tea bar and upgraded changing rooms. Personalized treatments and programs are available with an in-house medical team that includes the renowned Dr. Joanna Hakimova. 
The pools at Acquaforte Spa are composed of a higher saline density from the salt deposited into them which creates a unique sea oil that is used exclusively in Forte Village's cryotherapy. This provides guests with powerful anti-inflammatory effects and the option to detox. 
Each of the pools at the hotel offer a distinct health benefit: 
The first pool contains high concentrations of magnesium salts which relaxes guests muscles and eases pain.
The second pool stimulates the senses with its mixture of aloe, mint, and sea oil to provide a phytotherapy treatment.
The third pool acts as a water massage that eliminates toxins and offers a psycho-physical relaxation through its high-temperature water and mineral-rich sea salts.
The fourth pool releases tension in the body through the use of hydromassage jets and elevated water temperatures.
The fifth pool creates a stimulating vascular workout that firms tissues, eliminates muscle toxins and prevents fibrosis.
The sixth pool concludes the vascular workout therapy session via a counter-current hydromassage, which provides the body with energy and lightness. 
Related: 5 Sizzling Summer Treatments
Acquaforte's Ayurvedic park offers treatments and yoga practices in the garden of Indian Wisdom. Through gentle movement and breathy harmony, guests can enjoy private lessons including gentle hatha, hatha flow or vinyasa. 
The resort's spa and wellness team developed a menu of treatments that enhance the effects of the Thalassotherapy circuit. These offerings include a native salt exfoliating treatment, thalasso massage, sea much shaping treatment, cryotherapy with sea oil and aloe and a leg specific treatment. These services provide guests with various benefits that range from prevention of skin aging, improvement of circulation and more. 
Now available for exclusive use by family and friends, Acquaforte's Private Spa is located in a private garden with four thalasso pools with access to all of the spa specialists and treatments.