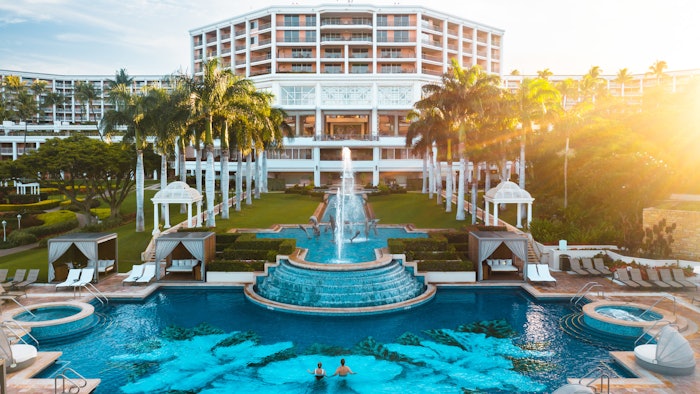 The Grand Wailea resort in Maui announced a partnership with wellness center the biostation, to launch Hawaii's first biostation faciality in summer 2022. The location will offer customized treatment plans with safe antiaging solutions, furthering the resort's commitment to health and wellness. 
The biostation was founded by cardiologist and functional medicine expert Martin G. Bloom, MD, and uses personalized medicine to aid patients in identifying the root causes of their health concerns. The company aims to restore the body, alleviate symptoms and reverse the effects of aging or age-related diseases. 
To accomplishj this, the biostation at Grand Wailea will offer advanced testing, bioidentical hormone therapy, nutrient therapy, sexual health programs, medical aesthetics, weight loss programs and more. All Grand Wailea guests will also receive a complimentary B12 injection and a discount on their first IV therapy treatment.
The resort also plans to expand its wellness offerings with the Summer Solstice Wellness Weekend, which will offer a personalized treatment from the biostation. The retreat will celebrate the start of the summer and allow guests to reconnect with themselves through various experiences that target mental and spiritual wellness. Some of these experiences include the E Ala E cultural experience led by cultural programming manager Kalei 'Uwēko'olani, a yoga flow session, and a Solstice meditation and intention setting session with resident astrologer Juliet Doty.
"Wellness amenities while traveling are no longer just a trend, they're an expectation, and we're excited to add Grand Wailea to our portfolio of facilities within resort properties. The property's luxurious grounds, stunning natural surroundings, and commitment to wellness create the ideal setting for the biostation," said Ross Bloom, the biostation cofounder. "Our mission is to give guests the luxury of keeping up their wellness while traveling or the ability to embark on a wellness journey that they can continue when they return home."