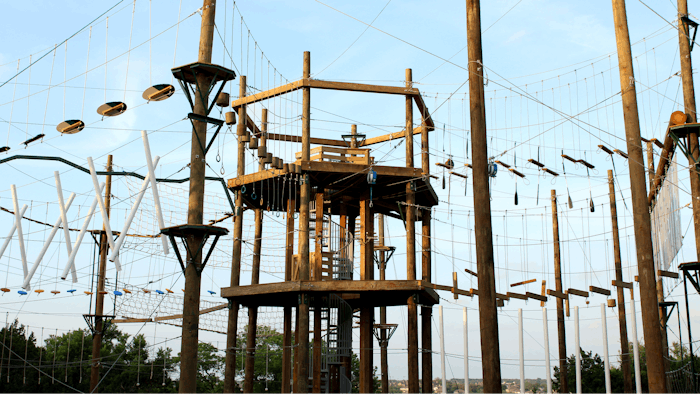 Courtesy of Miraval Austin
Miraval Resorts & Spas has announced exciting upgrades, expansions and renovations across all three of its renowned properties: Miraval Arizona, Miraval Austin and Miraval Berkshires. The goal is to improve the guest experience and help guests by promoting mindfulness. 
Cactus Flower Restaurant 
Miraval Arizona's principal restaurant, Cactus Flower Restaurant, has been updated to feature natural elements like trees and cacti, artisanal lighting, warm wood tones and natural fabrics reminiscent of the desert landscape. Many of the resort's guestrooms were also updated using a similar palette.
"We are thrilled to welcome guests to the renovated Cactus Flower Restaurant, where we've created a refreshing, elevated venue to support guests' wellness journeys" said Mark Stebbings, general manager of Miraval Arizona. "Cactus Flower Restaurant is a space for guests to make meaningful connections, explore the core of mindfulness and discover new cuisine while surrounded by the natural beauty of the mountain views and desert vistas." 
Hill Country Challenge Course
Miraval Austin debuted a three-tiered Challenge Course with six new activities. The course includes tightropes, balance beams and log crossings, as well as 29 unique features, allowing guests to leave their comfort zones to explore and play. The course challenges guests physically and mentally, encouraging self-reflection and self-discovery.
"As we see increased interest in both individuals who want to explore their boundaries and teams that want to unite, we're excited to unveil this impressive Challenge Course which reaffirms our commitment to serving our guests and their needs," said Sheri Morgan Muskin, general manager of Miraval Austin. "The Challenge Course encourages introspection and teaches valuable lessons on recognizing, accepting and finding ways to create a life in balance, and I look forward to welcoming guests to have this key experience at Miraval Austin."
Addition of Wyndhurst Mansion 
Miraval Berkshires has added several components of the former Wyndhurst Manor, including Wyndhurst Mansion with its fine-dining restaurant and three carriage houses.
Wyndhurst Mansion has 10 newly renovated guestrooms and suites, and three adjacent carriage houses with 10 additional rooms and suites. The mansion offers direct access to the golf course and 1894 Fireside Bistro & Bar, giving guests the option of a prix-fixe dining menu or separate tasting menu with wine pairings.
Wyndhurst Mansion also has a tea room, private boardroom, grand ballroom, Rose Terrace and sprawling Great Lawn, ideal for weddings of up to 200 people.
"We're thrilled to expand the Miraval Berkshires experience to include the iconic gilded age mansion and carriage houses, which elevates the full breadth of amenities and wellness experiences, while also providing unique and historic accommodations and increased suite availability," said Vic Cappadona, general manager of Miraval Berkshires. "The addition of 1894 Bistro & Bar allows us to offer unique culinary concepts and programming to help our guests indulge in their culinary sense of wonder through nutrition and epicurean experiences."