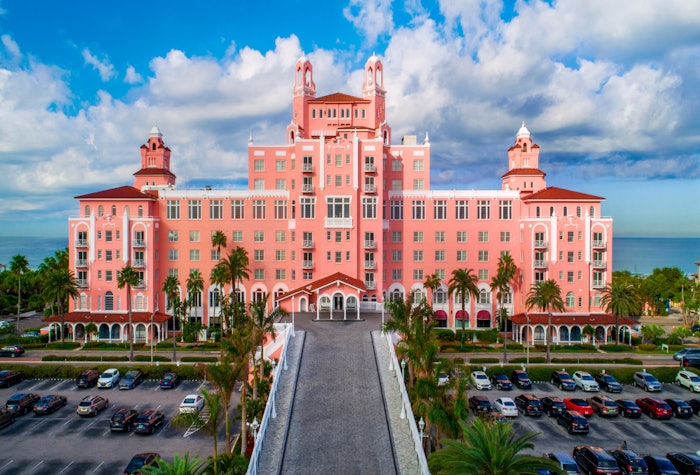 Courtesy of The Don CeSar
Three recently opened properties are focused on the mental and physical wellness of guests.
Vibe Health Lounge (VHL) in San Luis Obispo, CA, has added the Lucia N°03 Light Experience to its menu of Transforming Rituals. The Lucia N°03 uses wide spectrum and LED lights flashing at various frequencies, causing colors, shapes and patterns to dance behind closed eyelids as a kaleidoscope of light unfolds. As the body begins to let go and deeply relax, clients are immersed into a meditative experience. The Lucia N°03 is a tool for accessing deep states of awareness, making it easier to return to similar states at home.
VHL also has combined a Vibroacoustic Sound Bed experience with Crystal Chakra Healing Lights to provide guests with a unique treatment called the Vibroacoustic Crystal Healing Ritual. The ergonomically and bio-energetically designed sound bed delivers a relaxing and rejuvenating musical massage that harmoniously tunes the body and brain like a musical instrument. Clients leave feeling deeply relaxed, vibrant and aware from within. The experience enhances creativity and productivity while helping to manage stress and anxiety.
The Don CeSar completed the renovation of its 4,100-square-foot fitness center, open 24 hours a day, seven days a week for hotel guests and club members. Key features include Technogym machines, two MIRRORs with 10,000+ classes on demand, cross training-inspired equipment like "battle ropes" for full- body conditioning, and personal training services. 
It's designed for the modern traveler and adds a number of holistic and sensory elements to the fitness experience, like motivational podcasts playing in the background and nutrition/wellness displays that rotate with the latest trends. 
Spa Oceana, The Don's 11,000-square-foot destination spa, features over 100 treatments inspired by the world's oceans:
Indian Ocean-inspired treatments include the 

Hamsa Healing Ritual,

 with sound healing from Tibetan singing bowls and

Garshana

, a traditional Ayurvedic dry massage that stimulates the skin and lymphatic system, enhancing blood circulation and the release of toxins.
Atlantic Ocean-inspired 

Oceana Renewa,

 incorporates regional ingredients like sweet tea, citrus, beach grasses and live fruit extracts into a custom massage.   
The GRAND ASTON La Habana Hotel features 600 rooms and expansive wellness facilities, including Havana's only 24-hour fitness center and 180-foot swimming pool overlooking the ocean. 
The Wellness Center by Spa Ubud focuses on Asian healing therapies, including massages with authentic Balinese techniques. It also includes a beauty parlor offering hair, makeup and nail services.