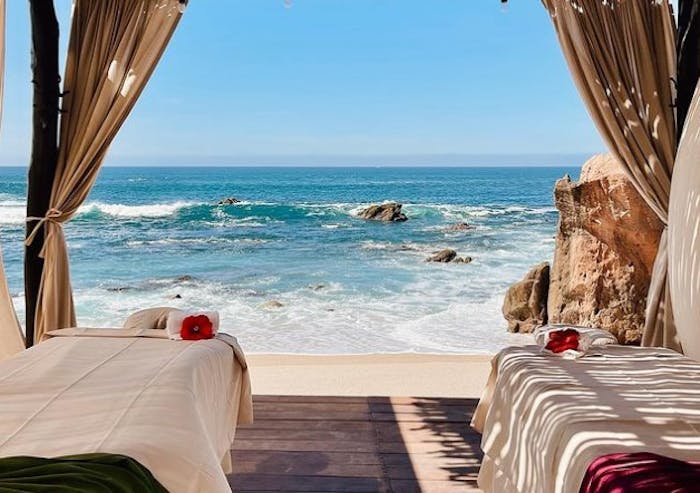 Courtesy of @esperanzaauberge
Auberge Resorts Collection has partnered with Spirit Daughter, Dr. John Amaral, THE WELL and The Big Quiet, to offer its guests two-week-long vacation options in 2022.
The vacations are focused on self-indulgence, intention setting and healing energy, all while fostering connection between fellow wellness seekers.
1. Intention Setting  
Esperanza, Auberge Resorts Collection
 in Los Cabos, Mexico, is bringing on the founder of Spirit Daughter, Jill Wintersteen,  in January for a week of New Year intention setting. She will host journaling workshops and other well-being exercises, with energy healing, lunar cycles, astrology in relationships and more. In exclusive personal chart readings, Wintersteen will help participants discover what motivates them, what rules their emotions and what hidden talents they may have. Guests will also learn about the planets and signs that govern their energy and will begin to understand themselves and their unique life path.
2. Find Your Energy Flow
John Amaral, DC, and THE WELL will join up at Hacienda AltaGracia, Auberge Resorts Collection in Costa Rica in February for the Find Your Energy Flow Retreat. Dr. Amaral, an energy healer, will lead guests through daily body and energy workshops, as well as movement and meditation classes that help participants create and sustain new levels of energy, clarity and fulfillment. Guests can also participate in group experiences, which will provide a sense of connection with like-minded individuals. The retreat offers access to treatments and amenities, including daily complimentary experiences and a dedicated compa (guest experience designer), who provides additional adventures and locally sourced meals and beverages.