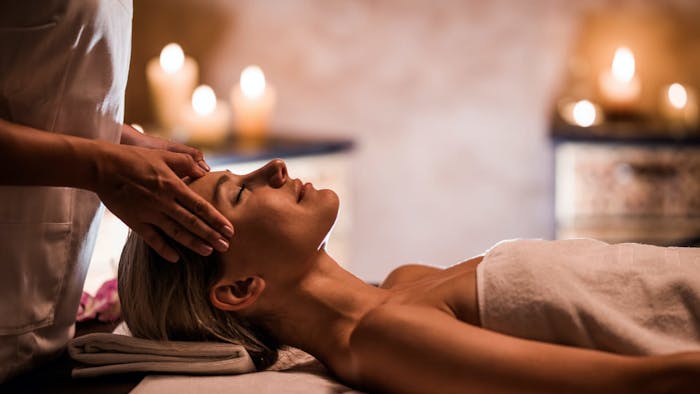 Courtesy of The Wilde Resort & Spa
Check out the wellness offerings at resorts and spas around the world:
Thompson Austin  is set to open this Fall featuring 229 rooms. The guestrooms, suites and residences come complete with evening turndown, in-room STAYCAST movie streaming,  complimentary in-room coffee and tea, daily housekeeping services, same day laundry services, DS&DURGA bathroom amenities with Thompson signature scent, in-room dining and valet parking.
The hotel will have a 6,700-square-foot wellness center includes state-of-the-art equipment, private fitness studios and a sports simulator. The wellness lounge includes a yoga studio and additional private fitness rooms that can be booked for private workouts or used for guest classes.
Meliá Orlando Celebration has launched 10 Stay Well by Delos Suites amongst its 289-rooms, designed to enhance the hotel experience and positively impact guests' health and happiness. The Stay Well by Delos suites feature products that are selected based on scientific research and technological advancements, designed to help improve air quality, sleep patterns, mindfulness and energy levels, as well as a refined cleaning protocol.
Each of the 10 suites include a welcome and guided meditation, mood-enhancing aromatherapy, dawn simulation, air purification, subtle night lighting and a soundscape machine. The bathrooms in the suites will feature a shower infuser that reduces chlorine to leave hair and skin feeling softer and smoother. In addition to in-room features, guests staying in a Stay Well by Delos suite have access to online programs that encourage health and well-being from the Cleveland Clinic. 
Wanda Hotels & Resorts has opened its first international location in Turkey. Wanda Vista Istanbul has 127 luxury guestrooms and 320 fully-equipped service apartments. Wanda Vista Istanbul has spa and fitness facilities that consist of a fully-equipped fitness center, yoga room, spa center, outdoor pool and heated indoor pool. The spa center has a Turkish bath, where guests can experience authentic local bathing. 
W Dallas - Victory features 220 guest rooms and 32 suites, with a 24/7 gym, panoramic infinity pool and AWAY Spa Dallas. AWAY Spa Dallas is a wellness and beauty sanctuary located on the 16th floor of the hotel. The luxury spa offers locals, residents and guests a place to detox and indulge in self-care. AWAY Spa specializes in advanced treatments provided by wellness experts, from relaxation and deep tissue massages to makeup, hair and skincare.
The spa features eight studio rooms where guests can enjoy a massage, facial or body treatment. There is a wide variety of options from massages and facials or wellbeing treatments, to a duo studio room ideal for friends, couples or relatives wanting to unwind together. 
The Wilde Resort & Spa invites guests to enjoy authentically curated experiences and embrace the natural beauty that surrounds them in one of the world's most breathtaking destinations. The Wilde has 105 contemporary guest rooms and suites. The Wilde Haven Spa is a full-service spa and fitness center offering treatments that promote healing and spiritual growth, leaving guests feeling fulfilled, inspired and invigorated. The spa also has outdoor soaking tubs and landscaped seating areas, for contemplation, inviting guests to relax and take things a little slower.