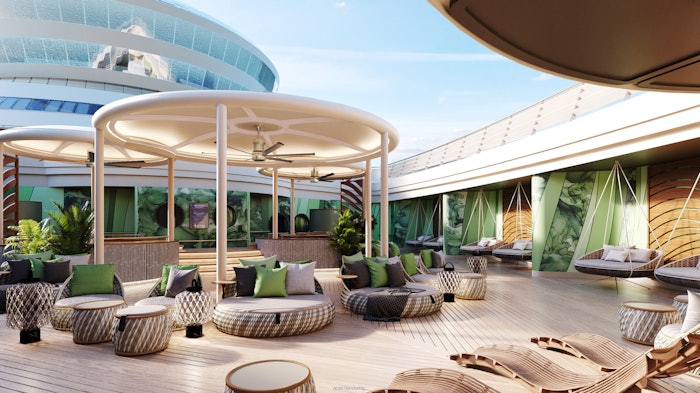 Courtesy of Disney Cruise Lines
Disney Cruise Line's Disney Wish ship will offer more ways to pamper and play, sip and swim, escape and indulge in summer 2022. 
Senses Spa will be an outdoor relaxation space—the fleet's first outdoor spa retreat—where guests can unwind in whirlpool spas, rest on plush loungers and find their center during yoga sessions, aboard the cruise ship.
The open-air oasis is an extension to Disney Cruise Line's Rainforest experience, which has been reimagined for the Disney Wish as well. The Rainforest will feature the fleet's first ice lounge, allowing guests to combine thermal therapies to support physical wellness and tranquility. It will also include heated ergonomic loungers and sensory spa showers, as well as sauna, steam and dry chambers.
Senses Spa's private treatment rooms and villas for couples will offer a menu of massage, facial and acupuncture therapies. Guests will be able to select specialized treatments that are customizable to their needs, such as pain management and sleep improvement.
Adjacent to the spa, the reimagined Senses Fitness will contain exercise and wellness facilities, including a main room with exercise equipment, a dedicated cycle studio and an aerobics room. 
The ship is also introducing its Quiet Cove, an adults-only pool where guests will have a secluded space to lounge, sip and soak. Set away from the family activities, the peaceful space will offer panoramic views of the ocean from a luxurious infinity pool. Other amenities include a whirlpool spa, an open-air bar and a poolside café.
"With the Disney Wish, we wanted to design an experience that allows our grown-up guests to relax, recharge and reconnect in unique ways that only Disney Cruise Line can create," said Laura Cabo, portfolio creative executive, Walt Disney Imagineering.