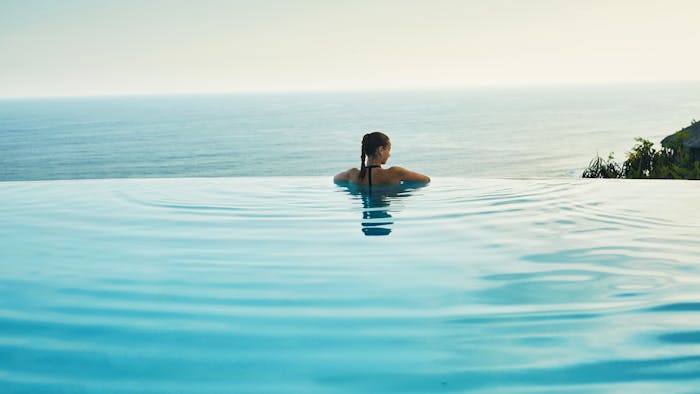 Spas and resorts are opening, reopening and renovating left and right in 2021. We gathered another batch of recently opened spas and resorts with great wellness offerings.
1. Euphoria Retreat
Greece's Euphoria Retreat has reopened and introduced "Feel Alive Again," which is a movement, mindset and concentrated program centered around the concept of processing the past, releasing the negative, feeling safe and secure, reconnecting with people and harnessing both inner strength and flexibility.
Throughout the summer, the Feel Alive Again retreat will include components like picnics, sunset gatherings, breathwork classes by the swimming pool and nutritional workshops. The retreat has a maximum of nine participants with scheduled sessions incorporated.
Related: 7 Luxury Spa Openings
2. Paradisus by Melia
Paradisus by Melia resorts in Punta Cana announced the reopening of Paradisus Palma Real on June 5, 2021, and the relaunch of Paradisus Grand Cana, (formerly known as The Grand Reserve) on June 15. The beachfront property features 784 oversized suites, nine restaurants, specialized treatments at YHI Spa, 27-hole golf course at Cocotal Country Club, white sand beaches and lush gardens. There is a family and adults-only option for travelers to choose from when they stay. At the Paradisus Grand Cana, The Reserve will include 108 swim-up suites and Mangu.
3. Naturopathica East Hampton Spa
Naturopathica announced the relaunch of its Spa & Healing Center in East Hampton, NY in May 2021. The spa has been reimagined and expanded , and it will include Naturopathica's latest approach to wellness by combining bespoke therapies, advanced technology and personalized ingestible remedies for healing from the inside out.
The new spa creates a luxurious environment in which practitioners can draw from modalities like radiofrequency, crystal healing and herbalism. The spa has a sustainable design featuring Pierre Jeanneret chairs, the brand's signature herbal library and Noguchi lighting. The spa also includes a sun-bathed modular retail boutique which can be transformed into a pop up shop for emerging brands and local creators. The revamped spa menu that includes: Defy Contouring Treatments for Face and Body, Clear Acne Elimination Treatment, Defy Skin Resurfacing Facial and Nano Fractional Skin Resurfacing.
Related: 5 Luxurious Spa and Wellness Openings
4. OleHenriksen Face/Body Spa
The OleHenriksen Face/Body Spa officially opened in West Hollywood. While closed they renovated the spa and created a new and improved experience for their guests. Some updates include:
A gorgeous couples suite for massages and a couples soaking tub
State-of-the-art treatment tables by Living Earth Crafts
A Wet room Experience with LED mood lighting
Renovations to the esthetic rooms, changing areas, massage rooms, flooring, hallways and waiting areas
5. Vintners Resort
Vi La Vita Spa at Vintners Resort in Santa Rosa offers guests and locals massage treatments and a safe, relaxing atmosphere for self-care. The 5,000 square-foot spa has happily reopened after closure restrictions have lifted. In the heart of the spa, visitors will find an impressive space surrounded by floor-to-ceiling windows that invites the natural light to emanate throughout, vaulted ceilings and a natural design inspired by a 200-year-old heritage oak tree that sits just outside the spa doors.
The spa has a wellness relaxation lounge and a fire feature, indoor caldarium with a warm pool and lounges. There is an outdoor plunge pool and deck for enjoying the fresh air in the sun. The five treatment rooms have access to a secluded garden patio area with seating, and there is a couples treatment room that features a deluxe, private outdoor patio with a rain shower and lounging area. The spa menu includes a variety of cocktails and light bites as well.
Related: 6 Unique Properties That Opened Around the World
6. Alyeska Resort's Outdoor Spa
Alyeska Resort in Girdwood, Alaska, has undergone construction of a $15 million outdoor Nordic spa, set to open late summer 2021, per Anchorage Daily News. The spa will include heated and cold pools, saunas, hot tubs, steam rooms, waterfalls, and a bar and bistro. The outdoor facility will be equipped for Alaska's winters with heated walkways, robes designed like winter jackets, and hammocks lined with fleece. Other offerings include massage, yoga classes and aromatherapy.