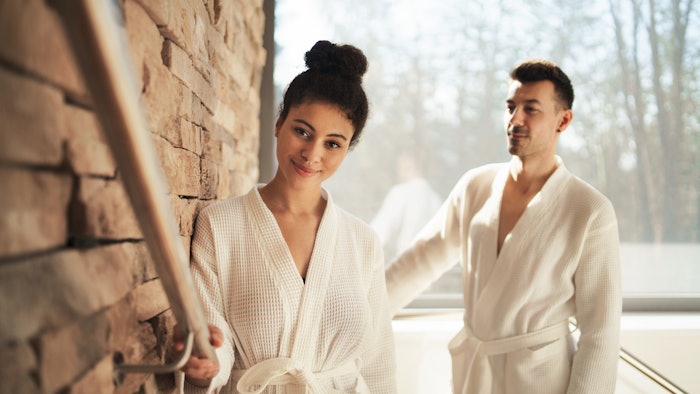 Don't miss out on these hotels and resorts opening in 2021. 
1. Spa Ojai 
Ojai Valley Inn reopened after completing a $5 million renovation, which included stunning new Spa Penthouse Suites with a modern luxury design. The spa is also opening back up with a renewed outlook on sustainability. The 31,000-square-foot Spa Ojai has 24 treatment rooms, public spaces and two luxurious penthouse guest suites. The new technology and sustainability-forward design allows guests to pass through a tranquil courtyard with a running fountain before entering the spa. Once indoors, visitors will find luxury lockers, new flooring, vanity stations, additional shower space, tiling and lighting throughout the space for a relaxing and peaceful environment. The women's side of the spa includes a dedicated quiet room, and the men's side includes a plunge pool.
Ojai is also debuting a newly expanded serenity lounge with soft, cozy furnishings that complement the warmth of the space. Upon reopening, Spa Ojai also reintroduced its signature Kuyam experience for individuals and small, private groups. This is a Chumash Native American Indian word meaning "a place to rest together," and it is a unique, detoxifying experience that combines therapeutic, self-applied desert clay with essential oils. 
2. The Spa at Hotel Florence
The Spa at Hotel Florence has been newly renovated and is located in Florence, South Carolina. Having recently completed renovation in February 2021, the full-service spa features state-of-the-art individual treatment rooms, a couple's massage room, and a serene relaxation area with a selection of coffee, tea and spa snacks. 
The spa's array of treatments include deep tissue massages, Eminence Organic facials, natural nail services, spray tanning and more. Hotel guests are also allowed to receive spa treatments from the comfort of their own room upon request. 
3. The Woodhouse Dayspa
The Woodhouse Day Spa, a high-end day spa brand, has announced the opening of its newest location in the Bottleworks Hotel. The full-service Woodhouse Day Spa offers guests more than 70 rejuvenating spa treatments in a peaceful, luxurious and relaxing environment. This spa is the first in the area to include a halotherapy salt room, which delivers skin and respiratory benefits as clients relax in a calming Zen atmosphere.
Guests can enjoy Woodhouse's signature services such as its Therapeutic Stone Massage, Organic Seaweed Leaf Wrap, Warm Agave Nectar Pedicure or Lavender Dreams sleep treatment. All treatments begin with a plush robe and reflexology sandals to begin the journey, while gentle music, essential oils and soft lighting work in tandem to promote a sense of calm.
4. W Osaka 
W Hotels Worldwide, part of Marriott Bonvoy's portfolio, showcased the first ever W hotel in Japan, W Osaka. The hotel features a minimalist exterior with colorful interiors, which acts as a nod to the Edo period when excessive displays of wealth were prohibited. Upon arrival, guests enter an illuminated tunnel inspired by the Japanese art forms of origami and kirigami. On the third floor, the hotel features a social hub Living Room. 
On the fourth floor of W Osaka, FIT offers the latest in fitness equipment, as well as a yoga room with a view. WET is the hotel's indoor pool space with an LED ceiling to illuminate and amplify the fun. For guests who live by the brand's 'Detox. Retox. Repeat' philosophy, AWAY SPA allows them to restore and revive with five private treatment rooms. 
5. The Beverly Hills Hotel Spa
In February 2021, the Beverly Hills Hotel Spa reopened its doors after a seven-month extensive refurbishment and redesign. The new design of the spa evokes a sense of serenity while maintaining the playful attitude and chic sensibility that the hotel is known for. Notable changes include the relocation of the reception from its former home in the promenade, allowing for a private check in and check out experience. The retail vitrines are now prominently on display in the promenade filled with luxury spa products, and a relaxation room has been added for guests to enjoy before their treatments. 
The spa has four treatment rooms for body and facial therapies and one duet suite that can accommodate two guests at the same time. The spa also added a nail suite, including two pedicure chairs and a manicure area featuring natural light from the citrus garden. The locker rooms will have steam showers and other spa amenities to help guests unwind and decompress. All treatment tables are equipped with warming heaters and a comfortable cushion system that envelopes the body. The spa includes advanced technology, natural luxurious ingredients and internationally inspired wellness rituals to provide a range of treatments to their guests. 
6. Sanctuary by Saima
Hawaii Sanctuary by Saima opened in February 2021, and it is now offering massages, facials, face waxing and tinting in Kailua-Kona. Saima Ahmad brings over 20 years of experience in the spa and hospitality business, having fallen in love with the industry at 19 when she worked as a receptionist for a spa at the Ritz Carlton Rancho Mirage. In 2015, Ahmad and her husband, Jan Egge, moved to Kona. Since, Ahmad has worked at top resorts, offering massages and facials. This year, the two took the plunge and opened Hawaii Sanctuary by Saima in Hanama Place.