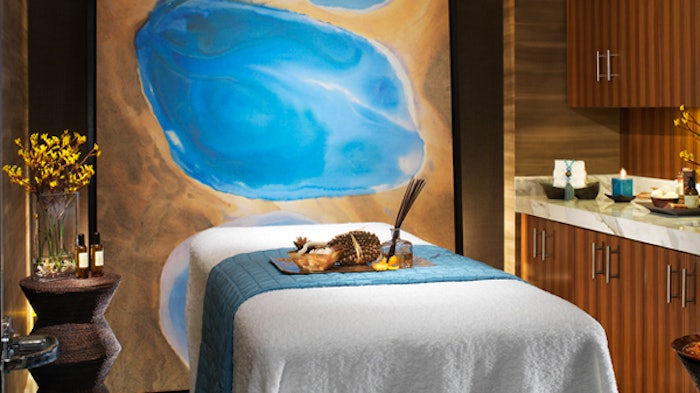 I'm convinced that friends who spa together stay together, and I'm the designated spa-booker of my group. So when the kind folks at Caesars Palace Las Vegas invited me to experience a day at its Qua Baths & Spa, I convinced my friends to schedule it into our girls' weekend getaway.
Walking into Caesars Palace from the Las Vegas strip, we strolled past grand columns and pilasters, beautifully designed fountains, sculptures and paintings to arrive at the spa in the Augustus Tower. The impressive stone exterior opens onto a long hallway, which leads to an artfully designed water fountain at the baths' entrance. We checked in and changed into lush robes and spa sandals; since "Qua" translates to "here" in Italian, we were ready to be present, put away our smartphones and experience the healing power of the waters that lie ahead.
Although the 50,000-square-foot spa offers loads of treatment rooms and service offerings, we opted for a few hours together to enjoy the extensive range of amenities. Thanks to the common area's open, oasis-like layout, we were able to huddle together and chat quietly without disrupting anyone else's experience. First, we alternated between the spa's three mineral-enriched pools in varying temperatures and with plenty of benefits: natural skin restoration in the Tepidarium pool; a release of muscle tension in the hot Caldarium pool; and invigoration and detoxification in the chilly Frigidarium waters. After these Roman-inspired baths, we headed to the heated spa loungers surrounding the pools and nearly fell asleep.
Next, my group and I explored the large whirlpool, herbal steam room and cedar wood sauna before checking out the Arctic Ice Room. Cool and refreshing, especially after so much warmth, it features actual falling snow! We intermittently visited the tea lounge and relaxation area, which provide fresh fruit, various teas, cold water and healthy snacks. Adjacent to the lounge were showers and vanities, making it easy to head straight to a Vegas show, post-spa.
Somehow, the hours passed quickly as we, four busy moms, miraculously found time for a day to ourselves. In such a bright and busy city, I can't think of a better escape. On the road trip home, the vote was unanimous: Our time at Qua Baths & Spa was an absolute standout.
—Alisha Racker