Inspired by the world's largest reserve of fresh water and linked by the scenic Train de Charlevoix railway along the Saint Lawrence River, three Canadian wellness sanctuaries make a splash with spa-goers.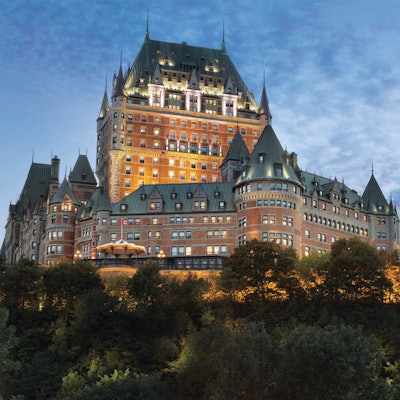 Moment Spa Le Chateau Frontenac, Quebec City, Quebec
Need to Know
Perched majestically on a bluff above the Saint Lawrence River, the castle-like Fairmont Le Chateau Frontenac is the most iconic building in Quebec City, exuding romance and prestige as only "the best address in town" can. After more than a century in business as a Canadian-Pacific railway destination, the hotel opened its first spa in 2014, rebranding it as a Moment Spa (owned by Amerispa) in 2017 for the hotel's 125th anniversary. Hidden discreetly on the sixth floor next to the guests-only Club Frontenac pool deck, gym and sweeping outdoor terrace, the 3,300-square-foot spa includes a five-chair mani/pedi salon and five spacious treatment rooms—each a former guestroom with a private bathroom and shower, two heated massage tables and bathrobe warmers.
Business Savvy
Steady demand keeps the spa's full-time staff of 13 busy thanks to the Chateau's various weddings and political events, with attendees especially interested in booking mani/ pedi services. Offerings are promoted with a sophisticated menu presented in hotel rooms, as well as an in-room TV commercial and marketing visuals in the lobby and check-in areas. Local members of the adjacent Club Frontenac also receive information about treatments and special offers. But most guests discover the spa through recommendations from the concierge staff, who are knowledgeable about offerings and quick to book appointments. Spa director Maude Sanscartier trains spa managers to run day-to-day business, rotating them from spa to spa—there are four Moment Spas in Quebec—to share their expertise with junior staff, while enriching their own professional experience.
PHOTOS: The Spa at Silver Legacy, Reno, Nevada
Signature Service
The most requested service, especially for travelers, stressed businesspeople and wedding parties, is the Moment Spa Massage (80 min./$174). "Our clientele wants to relieve their tensions and reenergize themselves," says Sanscartier. The service utilizes oil delicately scented with lily, bamboo and hibiscus, combined with slow, enveloping, lymph-draining maneuvers and forearm techniques. A moisturizing mist adds a finishing touch.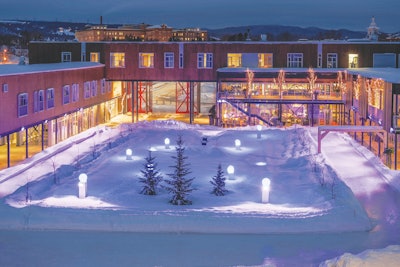 Spa Nordique Le Germain, Baie-Saint-Paul, Charlevoix, Quebec
Need to Know
Midway on its journey, the tourist train stops in Baie- Saint-Paul, pulling into a new station built on the grounds of the strikingly modern Le Germain Hotel Charlevoix. The 5,000-square-foot, seven-treatment-room Spa Nordique is the only Nordic spa in the Charlevoix region. A recipient of a 2018 Spa D' Excellence award from the Quebec Association of Spas, it sits above the "most important water reserve in the Charlevoix Biosphere Reserve," says spa director Chantal Barnwell, who monitors the various thermal pools every three hours. "It's the coldest and freshest water in the area and is the heart of our unique Thermal Experience pool circuit." Meanwhile, everything in the LEED-certified spa is locally sourced, including lavender eye pillows and all-natural soaps, shampoos and lotions.
Business Savvy
Mentoring from within creates a unified team of 27 staff members, and management earns their loyalty by treating them well. "These are precious hands that they have," says Barnwell. "I protect them with pure products, reward them with good salaries, and give them opportunities to grow with the company." To attract clients, an active social media presence draws followers to the spa website, and new software lets them book online. To cultivate word-of-mouth, Barnwell gives free spa passes to nearby bistros and galleries as employee incentive rewards. "Locals are my best ambassadors," she says.
PHOTOS: The Spa at the Peaks Resort, Colorado
Signature Service
Guests use a simple map for the self-guided Nordic Thermal experience ($20 guest pass, complimentary with facial or body service). Progressing from very hot to very cold, the metabolic-booster begins inside the eucalyptus steam room, then a Finnish sauna with pastoral views of farm animals and lush gardens, and an ice fountain cooldown. Outdoor soaks follow in three warm, cool and cold pools. Snowy wintertime is especially magical, with guests bundled up in cozy blankets and warmed underfoot by slate tiles heated by an eco-friendly geothermal system. Year-round, the From Head to Toe Package (90 min./$132) is the spa's most in-demand offering. It combines a 60-minute relaxing massage and a luminous 30-minute facial with a Payot Perform Lift eye treatment. "It's done in one room, with one highly skilled therapist, to seamlessly provide the best of everything," says Barnwell.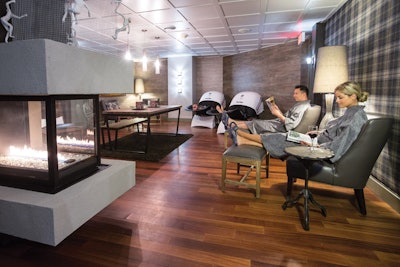 Moment Spa Le Manoir Richelieu, La Malbaie, Quebec
Need to Know
The final destination is, ironically enough, the only non-railway hotel, originally built for tourists arriving by ship rather than train. Turn-of-the-century cruises brought travelers to the 5-star vacation paradise, which first opened in 1899, burned down in 1928, was reborn in 1929 and opened its first spa in 2000. In 2014, Moment Spa Le Manoir Richelieu was completely transformed with a $750,000 remodel that made it a 5,166-square-foot contemporary haven for well-heeled golfers and skiers. Featuring 13 treatment rooms with warming massage tables, a bistro and a luxe lounge with a fireplace, mani/pedi area and two multi-sensory NeuroSpa massage chairs, the chic retreat was honored as the regional Best Luxury Hotel Spa winner at the 2017 Luxury Spa Awards.
Business Savvy
Le Manoir Richelieu's resort atmosphere attracts active visitors and a high percentage of men seeking post-sports massages. Ski and golf pros refer athletes to the spa, which also draws in male guests by placing its collection of grooming products and colognes at the entrance—where passersby can't help but notice them on their way to the Multi-Sports Centre and health club. Promotional emails woo locals with special offers, while word-of-mouth buzz is generated by inviting influencers, bloggers and journalists in for complimentary treatments.
Like the other Moment Spas in Quebec, this one is owned and managed by Amerispa, which established a customer loyalty program across all four properties to encourage repeat visits in exchange for discounts, complimentary services and special packages. The company also provides all necessary training, including education sessions with product partners.
Signature Service
In general, women arrive to be pampered and men seek relief from active lifestyles, enjoying the hot tubs and sports center. But everyone equally favors the High-Performance Anti-Aging Treatment (80 min./$194), a deluxe service for the face, neck, chest and hands. A proprietary massage technique is used with Valmont L'Elixir des Glaciers products for younger-looking skin, followed by a collagen mask. "It's a treatment that allows for a lot of relaxation and has a healing effect. Guests love that the mask gives their skin an instant boost," says Sanscartier.
–by Vicki Arkoff
[Images: Courtesy of Fairmont Le Chateau Frontenac; Le Germain Hotel Charlevoix and Le Manoir Richelieu]
This story first appeared in the May 2019 issue of DAYSPA Magazine. To receive the magazine, click here to subscribe.